Gold medallist receives laurels, 47 years late
Published on Jun 23, 2016 08:25 PM IST
Retired IAS officer Ajit Singh Singhvi completed his LLB from Bikaner in 1969 and according to a regulation of the RU, marks of both the previous and final years had be taken into account to decide the topper. But that year, the merit was decided only on the basis of final year marks, forcing Singhvi to move court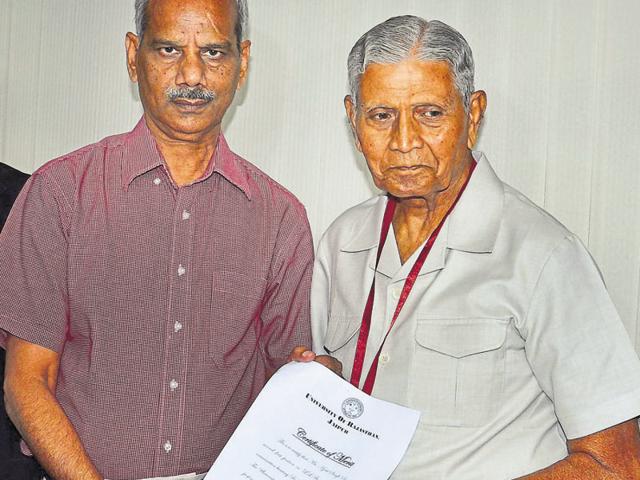 Hindustan Times |
, Jaipur
HT Correspondent
For 47 years, retired IAS officer Ajit Singh Singhvi has been fighting a lone battle to gain a laurel that was rightfully his — a gold medal for topping his law course at Rajasthan University (RU).
On Thursday, the honour finally came knocking but for Singhvi, now 81, it was a case of too little, too late.
Singhvi had completed his LLB from Bikaner in 1969 and according to a regulation of the RU, marks of both the previous and final years had be taken into account to decide the topper. But that year, the merit was decided only on the basis of final year marks, forcing Singhvi to move court.
"I attended court hearing 300 times. A case that involved the simple interpretation of a university regulation took 47 long years," said a disenchanted Singhvi, who received his medal and certificate from RU vice-chancellor JP Singhal on Thursday.
"The lesson I have learnt from fighting the case for so many years is that it is better to suffer injustice than seek justice. It is just not worth it to waste 47 years of one's life in litigation," he said.
Singhvi initially hired two advocates to fight his case but later argued for himself in the hearings.
In 1975, the Bikaner civil court had ruled in Singhvi's favour but the defendants moved the additional district judge (ADJ) court, which upheld the decision of civil court in 1990. The defendants then moved high court in 2003 but it dismissed their plea, validating Singhvi's claim. Still, the university was not very forthcoming in executing the order, forcing Singhvi to file an application in Bikaner civil court in 2015. Recently, the RU decided not to prolong the case and award the gold medal to him.
"No poor or ordinary man could seek justice in the country. In a few years, justice will totally go out of the reach of the poor. I could fight the case only because I have a family of lawyers," said Singhvi.
Personalise your news feed. Follow trending topics