Health minister launches AntaraRaj app
The health department on Wednesday launched a web-based application 'AntaraRaj' to track women using Antara injectable contraceptive and send them reminders, through SMSes, about the next dose to minimise drops outs. This contraceptive prevents pregnancy for three months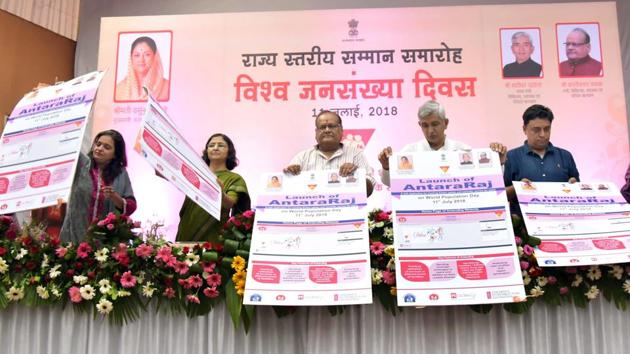 Published on Jul 11, 2018 10:15 PM IST
The health department on Wednesday launched a web-based application 'AntaraRaj' to track women using Antara injectable contraceptive and send them reminders, through SMSes, about the next dose to minimise drops outs. This contraceptive prevents pregnancy for three months.
On World Population Day, health minister Kali Charan Saraf had launched this web application at a state- level function organised at the Indira Gandhi Panchayati Raj Sansthan auditorium in Jaipur.
He said that the National Health Mission has come up with an app to track women using Antara contraceptives and it can inform them about the next dose on time.
NHM mission director Naveen Jain said Antara injectable contraceptive was launched in the state in October 2017 and in 2017-18, a total of 18,000 women used it. "The biggest concern was dropout, as only around 50% women turned up for the second dose, so it was decided that digital tracking could help, so the AntaraRaj web application has been launched," said Jain.
He said this web-application will help in tracking utilisation of services at various health centres and send reminder SMSes to users to minimise dropouts. Reminder messages will be sent to users and accredited social health activists (ASHAs) on their mobile phones, seven days before the due date for the next dose.
The application will help generate duelist of users and drop-outs, which will help in taking remedial measures. This web-based application is the first-of-its-kind effort in the country and this initiative of the National Health Mission, Rajasthan, will help guide other states.
The injectable contraceptive is being made available free of cost at all government health facilities in the state in a phased manner. Trained service providers (doctors, nurses and ANMs) are providing these services.
The development of this software has been supported under Project Udaan, a joint initiative by the Rajasthan government and Children's Investment Fund Foundation (CIFF), UK, which is being implemented in the state with support from IPE Global Limited.
The initial focus is on the rolling-out of the AntaraRaj web-based application in 14 Mission Parivar Vikas districts. In the near future, it will be used in all 33 districts of Rajasthan.
Close Story