Health minister pulls up SMS docs during a surprise check
Rajendra Rathore orders issuing of charge-sheets against 15 doctors, slaps show-cause notices on 51 of the government-run hospital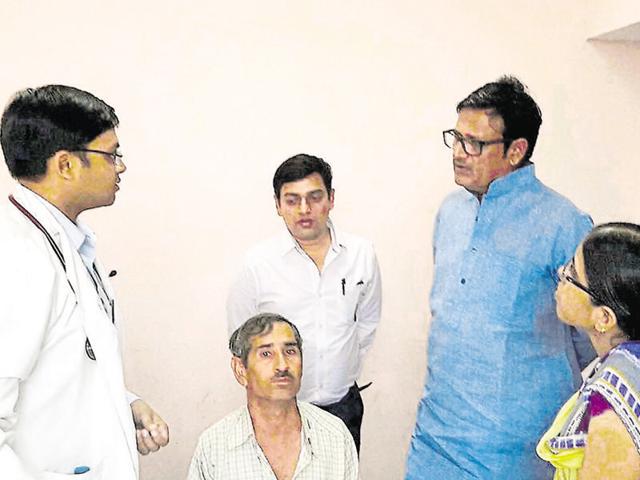 Published on Sep 30, 2016 08:56 PM IST
Health minister Rajendra Rathore ordered charge-sheets be issued against 15 doctors and slapped show-cause notices on 51 others during a surprise check at the government-run Sawai Man Singh (SMS) Hospital on Friday.
Rathore, who has just recovered from chikungunya, undertook the surprise check amid reports of rising cases of seasonal diseases like dengue, chikungunya and swine flu.
According to the health department data, 68 cases of chikungunya have been reported between January 1 and September 14. There have been 286 cases and 10 deaths due to scrub typhus and 186 cases and 42 deaths due to swine flu across the state. At least three people have died of dengue in Bharatpur district too.
After a round of the out-patient department (OPD), Rathore issued orders to suspend pharmacist Govind Sharma following complaints of laxity against him. Fifty-one doctors, who had not signed the attendance register too faced Rathore's ire and were issued show cause notices.
The health minister also directed the authorities to issue charge-sheets to 15 senior doctors for dereliction of duty. The doctors were not present at their chambers at Dhanvantri during OPD timing (8am-2pm). The health minister expressed displeasure when he was told that the doctors were either on rounds or at the operation theatres or taking classes in the medical college.
The minister said doctors should be present at the OPD and attend patients during the assigned hours and gave directions for issuance of charge-sheets against the 15 doctors.
During the drive, Rathore also checked the registration counter, nursing and doctors' rooms at the OPD and asked about testing facilities for patients. He spoke to patients standing at the free medicine counter.
To improve services and cater to larger number of patients suffering from seasonal diseases who had come to the OPD, Rathore directed that medicine units be increased from the present two to four. He also told the hospital authorities to add 11 more medicine distribution counters for the convenience of patients.
Rathore said strict action would be initiated against any government doctors engaged in private practice and those attending to patients at their homes in return for fees during duty hours. He also threatened to expose such doctors through sting operations.
The minister gave directions to introduce biometric attendance system for doctors and staff at all the government hospital and medical colleges across the state from November 1 to check laxity in marking attendance. He also directed all government and district hospitals to install closed circuit television cameras by December.
Close Story