In this tribal village sans school, youths ensure kids stay literate
Hindustan Times |
, Udaipur
Manoj Ahuja and Sohail Khan
Sep 10, 2017 08:33 PM IST
Two youths start a makeshift school in an abandoned building of the forest department to educate village children
Until two years ago, nine-year-old Kamla of a tribal village in Udaipur district did not attend a school and spent the day wandering around aimlessly after her labourer parents left for work.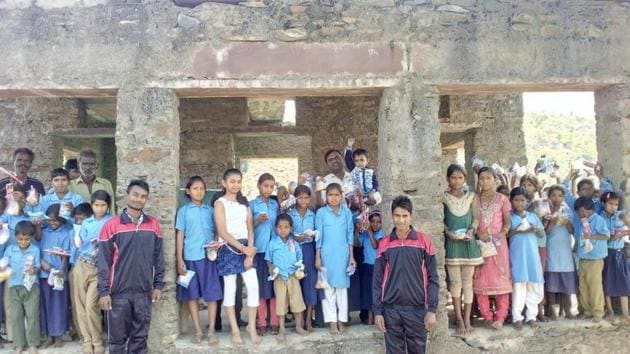 With the nearest school located about 5 km away on the other side of the national highway, her parents were reluctant to send her to the school.
Stay tuned with breaking news on HT Channel on Facebook.
Join Now
Like Kamla, most children in Jhada Aduwa and other nearby villages in the age group of 5 to 9 years did not attend school.
But things changed when two village youth decided to use an abandoned, dilapidated building belonging to the forest department as a makeshift school. This is where Kamla along with more than 100 other children gather every morning to study.
"We make them learn alphabets and counting and tell them stories. Once they are old enough to walk to the government middle school by themselves, they get direct admission in a suitable class depending on their age," Sonu Meena, 20, told HT.
Meena and his friend Ramlal, who took the initiative to start the makeshift school, don't charge any fees.
"We grew up in this village and wanted to contribute in whatever way we could. My family occupation is farming and that is enough to make ends meet," said Meena, who studied at the government middle school until class 10th and then went to Udaipur for two years to complete class 12.
The task was challenging as the set-up was informal without any government recognition.
"We went door to door to convince the parents to send their children to the makeshift school where they would at least learn the basics. The building gets water logged during heavy rains but is functional for most part of the year," Meena said.
Before the makeshift school came up, teachers of government middle school in Kaya gram panchayat found it difficult to enrol the children of Jhada Aduwa and other villages that are located far away.
"When we visited the village, we found children wandering about and asked their parents to enrol them in the school but they refused saying that they couldn't risk sending their little children so far away, especially on the other side of the busy highway," Ghanshyam Khatik, a physical education instructor at government middle school at Kaya, told HT.
Khatik also helped the youth set up the makeshift school by providing them with a board and chalks. "Once the students are old enough, we conduct a test and get them admitted in a suitable class (at Kaya middle school) depending on their age," Khatik said.
The initiative has galvanised the public representatives in the region who are making efforts to get a proper school sanctioned. Udaipur (rural) MLA Phool Singh Meena and sarpanch Ramesh Damor are leading the effort.
"Looking at the enthusiasm of the children in attending the makeshift school, we have approached authorities to start another middle school nearby. Five bhigha land has been allocated in Jhada Aduwa village and further process is underway," Damor told HT.
Once the new school becomes functional, the dilapidated building would once again be abandoned but thanks to the two enterprising youth, Kamla and her classmates are unlikely to forget it in a hurry.