JEE Mains 2018 exam held at 69 exam centres in Rajasthan's Jaipur, Kota
More than 45,000 aspirants appeared in the JEE Mains examination—conducted by the Central Board for Secondary Education (CBSE)-- in both the districts, board officials said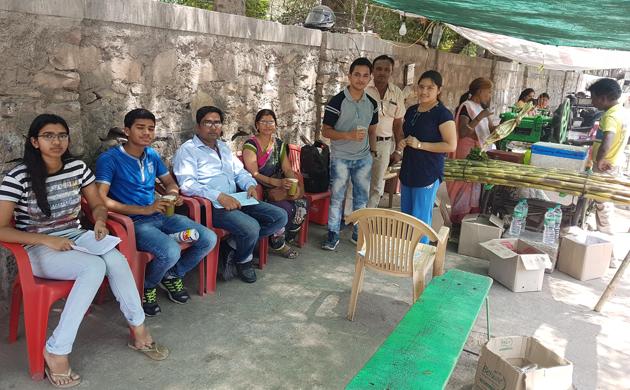 Updated on Apr 08, 2018 09:46 PM IST
Hindustan Times, Jaipur/Kota |
, Kota/jaipur
HT Correspondents
The JEE Mains, 2018, examination was held at 69 examination centers, including 51 in Jaipur and 18 in Kota on Sunday.
More than 45,000 aspirants appeared in the JEE Mains examination—conducted by the Central Board for Secondary Education (CBSE)-- in both the districts, board officials said.
Large number of students from across the country takes coaching for the JEE Mains in coaching city of Kota, most of whom will write the exam in Kota while others at different exam centers across the country.
On the JEE Mains, 2018, examination held in Kota, CBSE Kota coordinator Pradeep Singh Gaur said the paper-1 (Bachelor of Education and Bachelor Technology was held between 9.30 am and 12.30 pm and the paper-2 (Bachelor of Architecture and Bachelor of Planning) was held between 2 pm and 5 pm.
A team of more than 20 observers have appointed by the CBSE to supervise the JEE Mains in Kota, CBSE officials said.
Frisking of the students through metal detectors was done at the examination centers, some of them said.
Speaking about the level of the examination paper, Akansha Laddha,18, an aspirant said she had also written the JEE Mains in 2017, so she found today's examination a bit difficult than the one last year.
"While the Mathematics part was easy, Chemistry was tricky and Physics was moderate," she said.
Subhra Supakar, 18, another aspirant said the paper was much easier than the one last year, especially the Physics part, whereas the Chemistry portion had more Organic Chemistry-based questions than Inorganic Chemistry.
The Mathematics section was the easiest, she said.
Riya Banzal (19), another aspirant, however, found the Mathematics part of the question lengthy, whereas the Chemistry section had less Inorganic questions, she said.
Apart from Kota, there were examination centers for JEE Mains in five other cities of Rajasthan, including Jaipur, Ajmer, Bikaner, Jodhpur and Udaipur.
The JEE Mains is the qualifying examination for the JEE Advanced, 2016, as more than 2.24 lakh successful aspirants of the JEE Mains will only be eligible to appear for the JEE Advanced 2016.
While the JEE Mains ranks this year will be given on the basis of the JEE Mains score as no weightage of the Class 12 marks will be given while deciding the JEE Mains ranks, unlike last year, board officials said.
The JEE Mains was held in 112 cities across the country and abroad. Examination centers have been set up countries, including Bahrain, Dubai, Muskat, Riyad, Sharjah, Qatar and Dhaka, board officials said.
The JEE Mains results will be declared on April 30.
Close Story
Personalise your news feed. Follow trending topics