Meet highlights problems to connect Rajasthan jail inmates with skill training
The RSLDC, training jail inmates in various skills with support from partners, recently organised a meeting in Jaipur to discuss the challenges being faced by the partners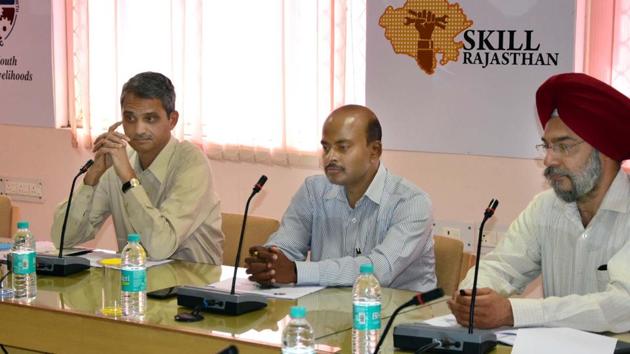 Updated on Mar 17, 2018 09:29 PM IST
The Rajasthan Skill and Livelihoods Development Corporation (RSLDC), training jail inmates in various skills with support from partners, recently organised a meeting in Jaipur to discuss the challenges being faced by the partners.
The meeting was attended by the officials of RSLDC, its training partners and the jail authorities.
Speaking about the challenges, Krishna Kunal, the managing director of RSLDC, said that it was not easy to connect these prisoners with the skill training. "The isolated existence in prisons affects their (prisoners') values of life. There are many behavioural issues with these jail inmates. After getting away from their families and living in jails, they do not open up with the trainers and most of them lose the hope of living. They do not find a motive to live. Therefore, nothing appeals them to learn any trade or profession," he said. "Even after enrolling themselves, these prisoners do not attend the training classes regularly and trainers have to counsel them," he added.
There were also other problems such as finding good trainers for the prisoners. "Getting good trainers to train jail inmates is a problem, as they do not feel comfortable in jails and with the available infrastructure," he further added.
Skill training is being imparted by the RSLDC in jails, juvenile homes and women shelter homes of various districts since 2015.
Underling the importance of emotional and financial support to the prisoners, Kunal said, "One cannot lead a productive and satisfying life without emotional and financial support. In the absence of these, many of the prisoners turn into hardcore criminals. In such a situation, imparting skill training provides them a ray of hope to live and also helps them to forget or overcome their past."
In the meeting, Bhupendra Singh, the additional director general of jails, said that the jail authorities would extend full support to RSLDC and its training partners for imparting training to the jail inmates. He said skill training to the inmates serving their terms in the jail has mobilised them for employment and take up self-employment. Many jail inmates after receiving such trainings have been able to earn decent livelihood for themselves, while a few have become self-employed, he added.
Initially, the jail inmates were provided training in courses of vermin-culture, nursery management, electrical house wiring and jewellery. Later, other courses such as garment making, sweets and snacks making, candle making, jute diversified products, beauty culture and hair dressing were added. So far, more than 890 jail inmates have been trained in these courses, said RSLDC officials.
The RSLDC is imparting training to the jail inmates in various skills so that they can lead a respectable life after their release from the jails. Rajasthan has 127 prisons and other closed settings including 10 central jails, three reformatories, 25 district jails, 60 sub jails and 29 open camps. The capacity of these prisons is 32,327 and current occupancy is 32,787.
Case study
Avinash Choudhary, 31, a resident of Jaipur, was sent to jail in a dowry murder case in July 2008 for 7.5 years. When RSLDC started its skill training programme in jails, he attended nursery management for two months. After being released from jail, training partner Prayas got him a job at a local nursery, where he is earning around 2-3 lakh per annum.
Close Story