Now, I am Zeenab, leave us alone, says Barmer missing woman in video
The woman, Ritu Khandelwal, now known as Zeenab, said that she married Gulzar Khan and all documents related to her marriage are authentic.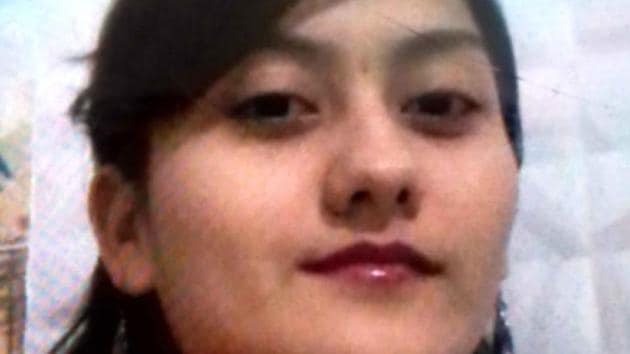 Updated on Apr 24, 2018 10:46 PM IST
Hindustan Times, Jaipur |
, Barmer
Mukesh Mathrani
A new video of the 18-year-old missing Barmer woman has emerged on social media, in which she claims that she married a Kashmiri man out of free will and her parents' allegations are untrue.
The woman, Ritu Khandelwal, now known as Zeenab, said that she married Gulzar Khan and all documents related to her marriage are authentic.
Ritu converted to Islam in December last year and married Gulzar without her family's knowledge. In March 2018, she went missing. Her family then registered a missing person report and the police traced her to Jammu and Kashmir's Kupwara district. The police claimed that Ritu had converted to Islam on December 27 last year and married Gulzar on December 30, keeping her family in the dark. However, the woman continued to live with her parents until March 16 after which when she went missing.
Ritu's parents approached the Rajasthan high court and filed a habeas corpus plea, in which they expressed concern over the safety of their daughter.
In the video, which has gone viral, Ritu is seen saying, "I am Zeenab, previous name Ritu Khandelwal daughter of Ganesh Khandelwal, wants to tell you that I got married to Gulzar Ahmad Khan on my free will. Whatever my parents are alleging is false. Gulzar never kidnapped me or harassed me. I want to live with my husband. Please don't harass and leave us alone. Papa, I request you to let me be free to live my life peacefully."
In the video, Ritu's husband Gulzar Ahmad is seen sitting next to her. In another video, Gulzar too says that all allegations are untrue and appealed to everyone to leave them alone.
Refuting allegations that her marriage documents are fake, Ritu said that she signed them. She claimed that she visited Kashmir at the time of her 'Nikaah' with Gulzar and then she went there out of free will and nobody kidnapped her. She said that she took a flight from Ahmedabad to Delhi and then another one to Kashmir. Ritu claimed that apart from her signature, her fingerprints can be checked on the marriage documents.
The petitioner's advocate Gokulesh Bohra had told the court that Gulzar, who was working at a coffee cafe in Barmer, had taken Ritu away. Her parents alleged that Gulzar had been harassing Ritu. They feared that Ritu could be harmed and approached the court. The plea is still pending in court.
On March 16, Ritu's father also lodged an FIR with the Barmer Police alleging that his daughter was harassed and then kidnapped by a Kashmiri man. On the basis of the complaint, a case under section 467, 468, 471 and 384 has been lodged and the investigation started.
Ritu also refuted her parents' claim that she was appearing for a college exam and said that she appeared for the exam on February 20, not December 20 as claimed by her parents. She also claimed that she had given the same written statement to the Barmer police, which reached Kashmir to record her statement.
Ritu also appealed to the Barmer police not to act on her parents complain and requested them to leave her alone so that she can live life.
The Barmer police said that they have received an order from the Jammu and Kashmir high court on March 22 to provide security to the couple so that no harm is caused to them. According to the Barmer police, the court had passed the order on February 20, but it reached Barmer on March 22.
Refuting his daughter's claim, Ganesh Khandelwal, while talking to HT, said that his daughter has been in their custody for 40 days and he feared that the accused have recorded the statement at gun point. Ganesh said that whatever Ritu has claimed in the video is false and they have evidence to prove it.
Refuting Ritu's claim that she went to Kashmir alone via a flight from Ahmedabad, he said that Gulzar was presented at the Ahmedabad airport. He said that they have video footage of the airport in which Gulzar is seen. He claimed that from Ahmedabad airport, Ritu and Gulzar have taken separate flights.
Ganesh said that the Gujarat police assured them that they will provide the video footage before the court when necessary. They also provided a number claiming that it is an official at crime branch in in Ahmedabad. When HT tried to contact the number, the person cut the phone and sent a message that he was in a meeting. Refuting Ritu's claim that she got married on December 31, her father said that they have submitted evidence that Ritu was in Mumbai from December 26 to January 3.
Meanwhile, the Barmer police confirmed Ritu's claim. Gagandeep Singla, superintendent of police in Barmer while talking to HT said that a team from Barmer city police station, which went there to record Ritu's statement on Monday, met her and recorded her statement. He said that Ritu told them that she married Gulzar out of free will. Singla said that they will submit the recorded statement before the court and act according to the court's directions.
Close Story