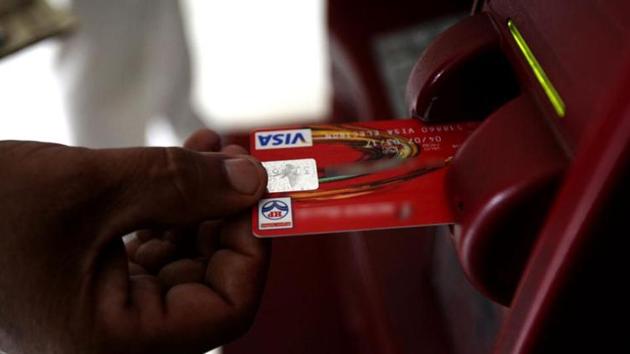 Over 50 ATM fraud cases in Jaipur in three days
Police suspect the fraudulent transactions have been made with the help of a skimmer.
UPDATED ON FEB 27, 2018 08:51 PM IST
More than 50 people from Jaipur became victims of ATM (automated teller machine) fraud, and lost money from their bank accounts over the past three days, police said.
Thirty-eight people from Jaipur's Mahesh Nagar area had complained of cash withdrawal from their accounts on Sunday and Monday, though their ATM cards were with them.
On Tuesday, the total number of fraud victims from Mahesh Nagar area went up to 52, said Vikas Pathak, deputy commissioner of police (DCP), Jaipur South. "A total of about Rs 10 lakh has been stolen from the victims' accounts so far."
The police suspect the fraudulent transactions have been made with the help of a skimmer, a small electronic device stuck over a card-swiping terminal that steals card information. The information is then used to develop clones of ATM cards; the PIN (personal identification number) is noted through a stealthily fitted camera in the ATM machine.
Apart from cases in Mahesh Nagar, four people complained of unauthorised deductions from their accounts at Jawahar Circle police station, and another two at Bajaj Nagar police station on Tuesday.
The six victims said they had withdrawn money recently from an ATM in Durgapura, which was allegedly fitted with a skimmer.
The victims in Mahesh Nagar also said they had withdrawn money from four suspected ATMs in the area in the past 3-4 days. "Since the fraudsters did not ask for ATM PIN or the one-time password, we think that the frauds were done with skimmers. The PINs were probably noted with the help of cameras fixed in the machine," said Manoj Choudhary, additional DCP, Jaipur South.
The withdrawals from the accounts, allegedly with the help of cloned ATM cards, were done from ATMs located in Delhi, Choudhary said. A special police team, including personnel from Jaipur police commissionerate's Crime Investigation Unit, has been sent to Delhi for investigation, he added.
The team will also get CCTV footage from the ATM machines in Delhi where the frauds happened.
The DCP said the police were also zeroing in on the ATM machines in Jaipur where the skimmer was possibly fitted. "We are also seeking information from the banks whose ATMs were used for the frauds," said Pathak.
Close