Report shows elephants giving rides to tourists at Amer suffer from TB, blindness
Apr 24, 2018 10:26 PM IST
The report stated that all 102 elephants at Hathi Gaon were found suffering from various foot problems
Nearly every fourth elephant offering rides to tourists at the Amer Fort is either visually impaired or suffering from tuberculosis, an at-the-spot examination report has revealed.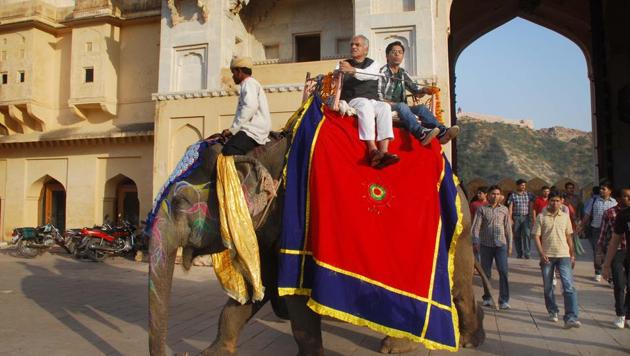 The report stated that all 102 elephants at Hathi Gaon were found suffering from various foot problems, including overgrown toenails and bruised footpads, and many displayed stereotypical behaviour patterns, such as repetitive swaying and head-bobbing, indicating severe psychological distress.
The examination was conducted by the Animal Welfare Board of India (AWBI) during December 2017 to March 2018.
Of the 102 elephants, 19 were found to be blind, either unilaterally or bilaterally, rendering them unfit for any work. Ten elephants were found suffering from tuberculosis, which can be transmitted to humans, and 28 were found to be above 50 years of age.
"Elephants were found to be under severe psychological distress. The tusks of 47 elephants appeared to have been cut in apparent violation of the Wildlife Protection Act, 1972," the report said. It added that all elephants were seen carrying loads heavier than 200 kg, which is the legal maximum for these animals on hilly terrain.
There were 132 privately owned captive elephants in Rajasthan in January 2015, 110 in 2016 and 102 in 2017, the report said. As per the report, out of the 102 elephants, matters related to legal compliance of keeping and using 53 elephants is sub-judice.
"Forty-eight elephants seem to have been issued illegitimate ownership certificates by the Rajasthan Forest Department (RFD) as they mention 'source of purchase' and 'present market value' of the elephant. Both these citations indicate commercial value of an elephant, which is prohibited under the law," the report said.
The veterinary inspectors also studied the post-mortem reports of four elephants that died within a period of five months in 2017. The autopsy revealed that the elephants had been suffering from respiratory diseases — possibly TB — and a heavy internal parasitic load.
Based on the compilation of observations and its interpretations as per important legal provisions, guidelines of ministry of environment and forest (MoEF), and parameters set by the AWBI, the report said none of the 102 elephants qualifies all the criteria set for registration with the AWBI under Performing Animals (Registration) Rules (PARR), 2001.
"No elephant can be registered for offering rides at Amer Fort due to load restrictions mandated by the MoEF guidelines and other provisions of the law," it said.
The report has recommended an inquiry into the current practice of cutting tusks without taking necessary permission from the forest department and into why there were two elephant calves in private custody in Jaipur, in violation of wildlife protection laws.
Additionally, the accurate number of captive elephant population in Rajasthan also needs to be ascertained, it said.
The AWBI, a statutory body operating under the MoEF, is currently examining the report.
Animal rights activists, meanwhile, demanded a complete ban on elephant rides.
"Shocking report of blind and TB-infected elephants has come to fore after examination. The elephants are forced to carry backbreaking loads day in and day out. The rides must stop," PETA India Lead Public Policy Officer Nikunj Sharma said.
More than 100 travel agencies, including global operators such as TripAdvisor, The Travel Corporation, Intrepid Travel, smarTours, STA Travel, and TUI Group, have committed to not offer any activity that exploits elephants, according to PETA India.
"Exciting news! Hindustan Times is now on WhatsApp Channels
Subscribe today by clicking the link and stay updated with the latest news!"
Click here!