Reservoir breaks in Jhunjhunu, no casualty
After breach in a reservoir at Malsisar in Jhunjhunu district on Saturday afternoon water from the reservoir flooded the nearby area. However, there was no casualty, officials said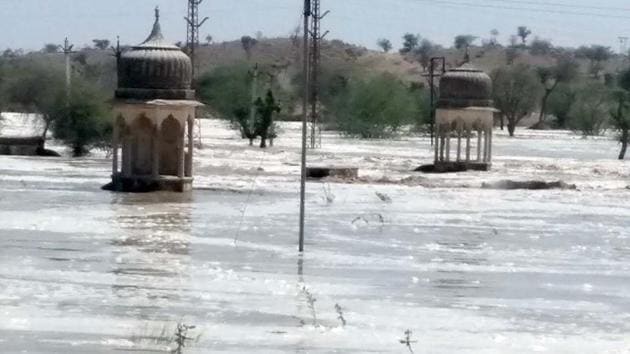 Updated on Mar 31, 2018 09:45 PM IST
After breach in a reservoir at Malsisar in Jhunjhunu district on Saturday afternoon water from the reservoir flooded the nearby area. However, there was no casualty, officials said.
Jhunjhunu collector Dinesh Kumar Yadav said that a reservoir of the water supply scheme suffered a breach causing the water to flow out of it. "The reservoir was full to its capacity. There have been no casualties. The buildings and system of the reservoir have been damaged though," he added.
The water was moving towards the Malsisar village, but the district administration erected mud barriers with the help of JCBs (excavating machines) and diverted the water, said Yadav. "The water moved towards the mounds where it stagnated. We're trying to cut through the mounds to help the water escape. Our tehsil and treasury buildings, besides two or three houses, have been flooded," he added.
The water to the Malsisar reservoir comes from Taranagar through pipelines. After filteration at Malsisar, the water gets distributed to the areas in Jhunjhunu and Khetri.
The collector said that 15-20 JCBs have been engaged to make way for the stagnated water. "We called teams of National Disaster Response Force and State Disaster Response Force, but situation is under control and we didn't require much help from them," he added.
Close Story