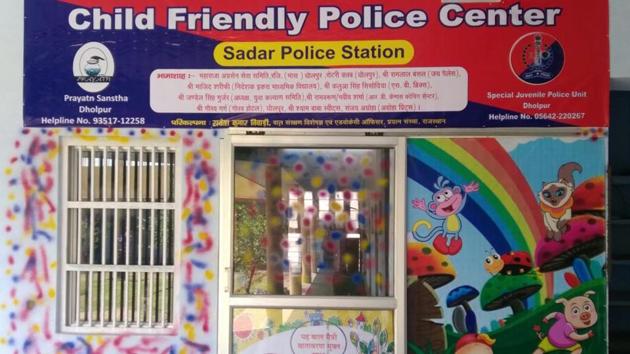 State gets its first child-friendly police station
Sadar Dholpur has become the state's first child-friendly police station with a colourful room for children at the police station, officials said
UPDATED ON APR 01, 2018 10:15 PM IST
Sadar Dholpur has become the state's first child-friendly police station with a colourful room for children at the police station, officials said.
The room will be inaugurated on Monday by Manan Chaturvedi, chairperson of Rajasthan State Commission for Protection of Child Rights, and Rajesh Singh, Dholpur superintendent of police (SP).
"Abandoned children, children accused of crimes, etc. who are brought to the police station will be made to sit in the room. There are colourful drawings on the walls beside toy cars, dolls, carom boards and comics in the room," said Niyaj Mohammad Khan, station house officer, Sadar Dholpur.
The idea behind creating this room was to give the children, who spend a few hours at the police station, a lively and playful atmosphere, said the SP. "Manan Chaturvedi came to our district last year and suggested that we develop one such room that will serve as a model for other police stations in the state," said Singh.
He added that the room's renovation and development were being done through crowdfunding and activist Rakesh Tiwari played an instrumental role in the same.
"We did not ask for money. We just asked people to take up some part of the work. The Rotary Club came forward and got the walls painted, Ramlal Bansal paid for the carpeting of the room, Majid Sharifi bought the furniture and so on," said Tiwari, who works as an advocacy officer with Prayatn, an NGO working for women and child rights.
He added that the children are mostly scared whenever they have to come to a police station and these rooms will provide them with a congenial atmosphere and also help them open up to the police.
Chaturvedi said that the creation of this room at Sadar Dholpur is a first under the 'Ek Kadam Bachpan Ki Or' campaign and subsequently, a room for children will be created at all 850 police stations across the state.
Close