Teachers should lead the way in building a new Rajasthan, says CM Vasundhara Raje
The chief minister was addressing a 'teachers convention' at Amrudon Ka Bagh in Jaipur to mark Teacher's Day.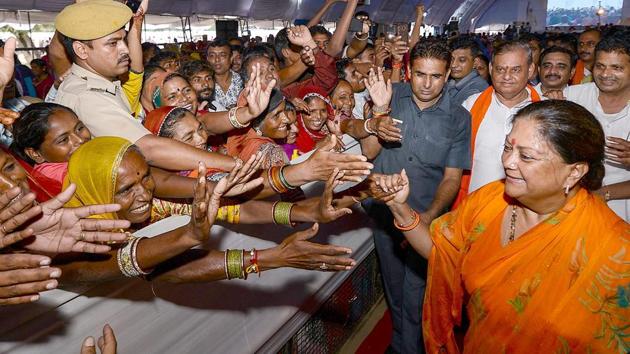 Updated on Sep 06, 2018 02:50 AM IST
Chief minister Vasundhara Raje on Wednesday said that the quality of school education has improved tremendously in Rajasthan over the past five years and credited the teachers for the same, while exhorting them to take up the responsibility of building "a new Rajasthan of our dreams".
She was addressing a 'teachers convention' at Amrudon Ka Bagh in Jaipur to mark Teacher's Day. More than 50,000 teachers from primary and secondary schools from across the 33 districts had assembled for the event.
"When I took over in 2013, Rajasthan was at 26th spot in school education in the country and today we are on the second spot," Raje said and credited the teachers for achieving the feat. She also appreciated the role of ministers and education department officials.
Raje said the teachers will have to take up the responsibility of building a new Rajasthan as only an educated state can achieve any progress. "I thank you all from the bottom of the heart with folded hands and touch your feet as you all are instrumental in bringing about change and will be the architects of Naya Rajasthan," she said amid applause from the gathering.
Expressing concern that pending court cases have led to delay in teachers' recruitment, Raje said recruitment of 28,000 teachers was delayed by four months as the case was stuck in court. "In some cases, the hearing is over but the judgment is reserved, which also leads to delay," she said.
The chief minister also directed the state education department to select 100 teachers from different schools across Rajasthan for one-month training in different countries so that they could learn new work practices and share their experience on return.
Recounting her school days in Cambridge, Raje said she was "zero in math" but a teacher coached her for eight months after which she scored well .
On the work done by her government, Raje said, "When we came to power in 2013, the teachers' vacancy in Rajasthan was 50%. We got it reduced to 20% and soon with the ongoing process of recruitment, it will reduce to 2%," she said and added: "We want every child to get enrolled in a school. We have given "orange cycle" to more than 14 lakh girl students."
Without specifying any time period, Raje said 14 lakh students in Rajasthan have shifted from private schools to government schools.
Raje said she herself doesn't like milk but asked the teachers to ensure that schoolchildren drink milk regularly as part of the mid-day meal scheme.
Mentioning about two girls from Sikar who went to a college in California, Raje said the government gave a grant of Rs 40 lakh to one of them. "When they return, they will inspire many more girls who will make the state proud," she said.
The chief minister also distributed laptops, two-wheelers and bicycles to meritorious students from different districts. Senior BJP leaders and education department officials were present on the occasion.
Close Story