They get water after 5 years, but villagers along Indo-Pak border see no end to woes
Barmer Collector says Narmada project will bring permanent solution to water crisis in border areas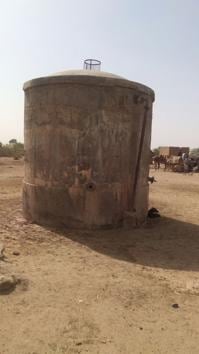 Updated on Apr 30, 2018 10:39 PM IST
Hindustan Times, Barmer |
Mukesh Mathrani
Before the summer peaks, two villages along the Indo-Pak border in Rajasthan's Barmer district got drinking water supply, a relief, which, villagers said, came after a five-year wait.
Barmer collector Shivprasad Madan Nakate, however, said water supply was restored to Dhabhad and Piprali villages after two years of interruption.
"I had visited bordering villages before the summer season, and learnt that there had been no water for the last several years. I asked the water department to sort out the problems, after which water was restored after two years," Nakate said.
Villagers claimed that they had been waiting for drinking water for the past five years. In the absence of supply, villagers said they were meeting their water needs through private tankers, which charge Rs 1000 to Rs 1500 for one delivery.
"We have been complaining about the problem for the past many years, but were always ignored. Recently, ahead of the district collector's visit, water works department officials restored the supply," said Shyam Singh Sodha of Dhabhad village.
He claimed the government restored supply to their villages by diverting water meant for some other places. "It is a temporary solution. Authorities are not serious about a permanent solution to the water crisis," Sodha said.
"Apart from this, the old pipeline system has also been damaged, so water does not reach the desired locations. If authorities want a permanent solution, they need to sort out these two problems."
In the country, the desert state has the lowest per capita availability of water -- 807 cubic metre per person, studies show, adding that this is set to decrease to 457 cubic metre by 2045.
Rajasthan has the country's 10% land mass but only 1.1% surface water, making it almost completely dependent on groundwater. Overdependence leads to a stress on groundwater, as aquifers are pushed beyond their limits. What's worse is that 88% of Rajasthan's water is saline, and 55% has very high fluoride, studies show.
In 2016, chief Minister Vasundhara Raje launched Mukhya Mantri Jal Swavlamban Abhiyan (MJSA), described as the country's largest campaign towards water harvesting and conservation in rural areas. The campaign, which seeks to tap funds through crowdsourcing, aims at benefitting 21,000 villages by 2020.
Hindu Singh, the sarpanch of Tamlor panchyat in Barmner, said Magara, Rohidi, Sundara, Tamlor, Buthiya and many other villages have been reeling under water crisis. "If authorities want to provide relief to the villagers, they should have to focus on a permanent mechanism."
About 20 villages in Bandhda, Khabdala and Ratredi panchayats, Sodha said, are connected to a water source at Shastri Ka Gaun. "Due to limited availability of water at the source, it is not possible to cater to the need of all the villages."
Nakate said water availability at the source was not limited, adding that supply was stopped due to power problems. "We have improved the power situation in the area and now these villages will get better water supply."
A permanent solution to the woes will be found only when Narmada water reaches the villages, the collector said. "The Narmada project is under progress; it could not be completed on time due to objections raised by the National Highway Authority of India and the forest department."
He said the objections raised by the national highway authority had been sorted out, and those of the forest department would be addressed soon. "We are expecting that the Narmada project work will resume next month and will be completed by the year-end; the project will bring a permanent solution to the water crisis (in Barmer)," Nakate said.
Close Story
Personalise your news feed. Follow trending topics