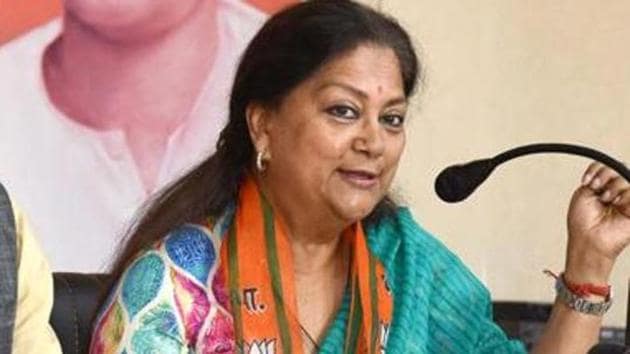 Upset at not getting fair price, farmers plan to gherao Raje in Sikar
The farmers in Rajasthan are up in arms against the government over its failure to procure Rabi crops at minimum support price (MSP)
UPDATED ON APR 06, 2018 10:43 PM IST
Farmers under the banner of Kisan Mahapanchayat plan to gherao chief minister Vasundhara Raje on April 9 during her visit to Sri Madhopur in Sikar district. Raje arrived in Sikar Firday on a four-day visit.
The farmers in Rajasthan are up in arms against the government over its failure to procure Rabi crops at minimum support price (MSP). While the state government has made arrangements to procure major crops, including wheat, at MSP, farmers union have alleged that the designated centers for wheat were too less and it was not possible for those living in remote villages to access them.
Apart from wheat, farmers are also being forced to sell other crops such as mustard and chana (gram/ chick pea) at below MSP, according to the union leaders.
"As against MSP of 4,000 per quintal, farmers are selling mustard at Rs 3,500. The situation is worse for chana. It is being sold at Rs 3,000-Rs 3,500 per quintal while the MSP was set at Rs 4,400. The MSP for wheat is Rs 1,735 per quintal, but at most mandis farmers are selling it for Rs 1,500," Kisan Mahapanchayat leader Rampal Jat said. "We plan to gherao the chief minister during her visit to Sri Madhopur on April 9," he added.
On April 3, police had detained Jat along with about 50 other farmers when they were trying to march to chief minister's residence in Civil Lines area.
The farmers affiliated to All India Kisan Sabha (AIKS) are holding demonstrations at mandis in Kota district to protest steep fall in the prices of garlic. In Sikar, farmers are holding protest against steep fall in onion prices.
"Wheat is being purchased at MSP by Food Corporation of India (FCI) at 207 designated centers in Rajasthan. It is up to the farmers to sell the wheat at designated centers," a state agriculture department official said requesting anonymity.
Jat, however, said that FCI procures crops during a 90-day period and it was not possible for farmers from more than 45,000 villages across Rajasthan to access 207 centers. "So they are forced to sell their produce below the MSP at nearby mandis. In addition, farmers are getting only Rs 1,200 for jowar against the MSP of 1,425," he said.
Other farmer unions are also unhappy. In February, AIKS leader Amra Ram had spent four days in jail after he attempted to lead a farmers' protest march to the Rajasthan assembly. On February 22, Rajasthan Police had arrested 179 farmers from different locations and detained around another 2,000 who were marching to Jaipur to stage a sit-in outside the assembly that was in session.
Close