We heard names of those six men, how could they not be guilty: Pehlu Khan's son
Sep 14, 2017 07:58 AM IST
The 55-year-old dairy farmer was waylaid by a mob in Alwar on April 1 and beaten up mercilessly. He later died.
"We don't know how we will do it, but we won't rest till my father gets justice," said Irshad, the son of slain dairy farmer Pehlu Khan, who was lynched by a mob of gaurakshaks in Alwar back in April.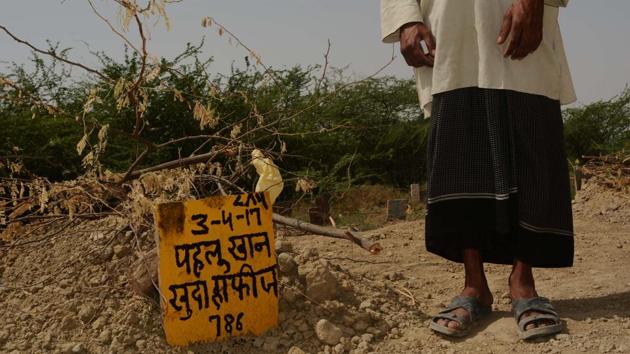 Irshad was shocked to know that the six people, who were named as his father's murderers, will walk away.
"Those six men stopped our vehicles. They were the ones who mobilized the mob and started the assault. How could they not be guilty?" asked Irshad.
The crime investigation department- crime branch (CID-CB) has given a clean chit to all the six accused, who were named in the case.
The police have said in the report that there is no evidence that the six men were present at the time of the attack.
"Be it, Hukum Yadav or Sudhir Yadav, we heard all the accused calling each other by their names when they were assaulting us. They kept saying 'beat these Muslims, they are cattle smugglers'," Irshad told HT.
After the death of Pehlu Khan, the 24-year-old Irshad had to step into his father's shoes.
"About a fortnight ago, my mother suffered a paralytic attack. Whenever we hear any talk about the murderers walking away, only we know what we go through," said Irshad.
He, along with his brother Arif (20), was also among the people, who were assaulted by the cow vigilantes, and were injured.
With the demise of Khan, who was the breadwinner of the family, they have to scrape through every day in order to survive. But what has not wavered is Irshad's resolve to get justice for his father.
"Till our last breath, we will continue the fight. What was done to us was wrong and we have also told the police about their role in the attack. We cannot stand by as they are declared innocent," said Irshad.