17 injured in Kolkata amusement park accident
Aug 22, 2012 01:38 PM IST
At least 17 people, mostly school children, were injured when the connecting rope of a "swirl ride" snapped in a amusement park at Salt Lake township of Kolkata on Tuesday, police said.
Seventeen children were injured, one of them critically, when parts of a water ride collapsed at Nicco Park, among Kolkata's oldest and biggest amusement parks, in Salt Lake.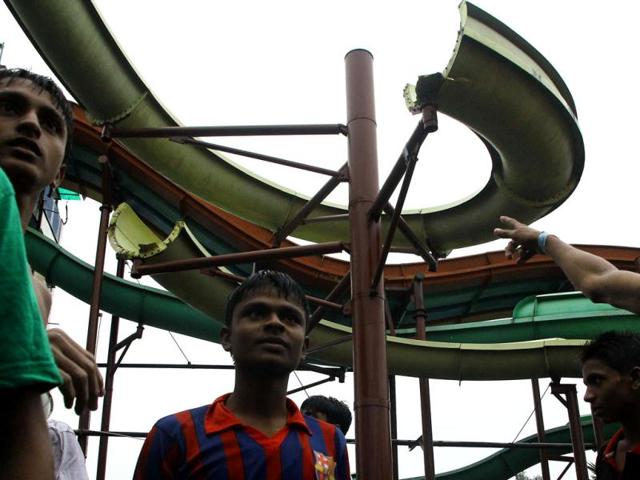 At about 2.30 pm on Tuesday, when the park was packed with revellers, the giant water ride came crashing down from a height of about 20 feet. Imran Ansari, a 12-year-old boy, was admitted to the ICU of AMRI Salt Lake with injuries to his neck. Six others were treated at Apollo Hospital and the rest were released after first aid.
"We've asked the park authorities to close down the water rides," said Rajiv Kumar, commissioner of Bidhannagar Police. The cops have started a case of negligence against Nicco Park authorities.
"Seven injured people are undergoing treatment at Apollo Hospital. The accident took place because there were more people on that particular ride than its carrying capacity," said Malay Mukhopadhyay, SDO, Bidhannagar, who visited the spot and spoke to the Nicco Park officials.
"More than 1,600 people gathered at the water park and more than 50 people assembled on the 50 feet tower of the ride. A few of them broke the security cordon and jumped on the ride at the time, violating safety guidelines. As a result, a portion of the ride collapsed," said Rajesh Raisinghani, assistant vice-president (Marketing), Nicco Park and Resorts. He, however, brushed aside suggestions that poor maintenance could have resulted in the mishap. "We undertake maintenance work regularly," Raisinghani said.
But Amitesh Nandy, who had come from Baranagar, said the portion which collapsed was not maintained properly. "When the slide collapsed there were two teenagers on it. After it snapped, others who were following them fell through the gap," Nandy said.