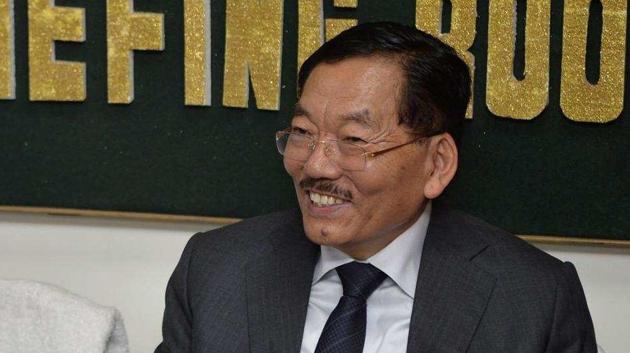 Will convert CM's official residence into cancer hospital, if we win: Sikkim Oppn leader
Statement designed to attract cheap popularity, said spokesperson of ruling Sikkim Democratic Front.
PUBLISHED ON AUG 21, 2018 12:23 PM IST
The chief minister's official residence in Sikkim will be converted to a cancer hospital, the main opposition leader of the tiny Himalayan state, P S Golay has announced.
"After the SKM comes to power, luxurious Mingtogang where a 'King' stays would be converted into a cancer hospital and the chief minister would stay in a simple house," Golay said in a public meeting.
Read: Pawan Chamling overtakes Jyoti Basu to become India's longest serving CM
The residence in just a km away from state capital Gangtok.
"Sikkim has no cancer treatment facility, and patients are forced to go out to faraway places for treatment. Even for chemotherapy, patients have to travel more than 100 km to Siliguri in West Bengal. We will provide cancer treatment after converting Mintogang into a cancer hospital," said Golay, the president of Sikkim Krantikari Morcha (SKM).
Golay, earlier threatened to send chief minister Pawan Chamling to jail if the come in power in the Assembly elections due in 2019.
Read: Bhaichung Bhutia launches Hamro Sikkim Party, may not vie for CM's chair in state polls
Mintogang has been the official residence of the chief minister since the time of Nar Bahadur Bandari (1940-2017), who was the chief minister for more than 13 years between October 1979 and May 1984 and March 1985 and June 1994.
The longest serving chief minister of the country, incumbent Pawan Chamling, is staying there since 1994 when he assumed power.
"Golay has got no serious issues. Therefore, he is resorting to such statements for cheap popularity," remarked Bhim Dahal, the spokesperson of ruling Sikkim Democratic Front (SDF).
Read: Sikkim govt to hold Lama Mela to appease influential monks, woo Buddhist voters
According to many, SDF that is in power at a stretch since 1994 is likely to face tough challenge from the SKM and Hamro Sikkim Party (HKP) formed by former Indian football captain Bhaichung Bhutia earlier this year.
In the 2014 Assembly polls, the SKM won 10 of the total 32 seats.
Earlier, Golay labelled corruption charges against Chamling.
Read: Stir over forest rights likely to hit rail link project to landlocked Sikkim
Incidentally, Golay was himself convicted in a corruption case and was released from the jail on August 10 after serving a year behind the bars.
Since his release, the SKM leader has been touring every corner of the tiny Himalayan state and making populist announcements.
Close