Worries for Nepal as bridge collapses in Kolkata
The landlocked country is dependent on Kolkata Port for all its imports through the sea route. Apprehending disruption in movement of goods from the port as a result of the mishap, the consul general of Nepal expressed his concern to the port authorities.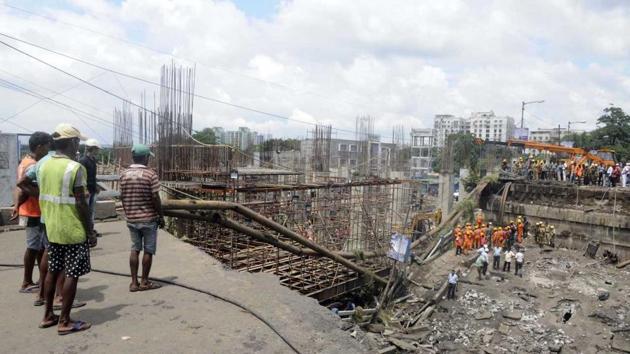 Published on Sep 06, 2018 02:23 PM IST
Hindustan Times |
, Kolkata/siliguri
HT Correspondents
The collapse of the Majerhat bridge has triggered concern in the landlocked country of Nepal that is dependent on Kolkata Port for all its imports through the sea route.
"We are worried. Almost all of Nepal's imports are routed through this port. The collapse of the bridge is definitely going to impact movement of goods. I have expressed my concern to the chairman and traffic manager of the port. They are holding meetings on how to minimise the impact to the traffic," said Eaknarayan Aryal, consul general of Nepal based in Kolkata.
Read: Kolkata flyover collapse: PWD issued tenders for painting while bridge's condition deteriorated
Aryal, who has been the consul general since 2016, visited the disaster site on Wednesday morning.
The bridge is part of the arterial Diamond Harbour Road through which some of the trucks carrying goods in and out of the port move. It is clear that the road will be closed to traffic for a prolonged period.
Every day as many as 1,300 trucks enter and exit the Kolkata Dock Complex, an unspecified part of which moved through the Majerhat bridge.
Read: 'My car began sinking': Survivor describes the moment Kolkata bridge collapsed
"Kolkata Port Trust (KoPT) has dealt with 80,000 containers only for Nepal in 2017-18. This is supposed to go up to 1 lakh this year. There may be some problem in the movement of traffic. However, we are working with the police and local administration to find alternative routes," said the spokesperson of KoPT.
KoPT is the nearest port for Nepal that imports edible oil, electronic goods, cars, sugar, general items of everyday use through Kolkata port. Most of the goods is transported through Bihar and crosses the border at Birganj.
Nepal also exports some vegetable, forest produce and handicrafts that goes through Kolkata port.
Read: Majerhat bridge collapse: Third body recovered from debris in Kolkata
"Much of our cargo to Nepal goes through the rail route. On an average, we send a train load of goods to Nepal every day. Fortunately, any part of the bridge did not fall on the rail tracks and rail services are running now normally," said the KoPT spokesperson.
Many trucks going to Kolkata port use Hyde Road that have no connection with Majerhat bridge. However, the pressure on this road is expected to increase overnight due to many people using that route.
Close Story