Kaftans are back in fashion. Here are tips on how to style them
Feb 03, 2023 03:31 PM IST
While many of you may consider donning a Kaftan as a brunch wear or pulling an all-nighter with your girlfriends, you can also wear it as a workwear or bridesmaid dress for one of the wedding ceremonies. As Kaftans make a comeback in fashion world, here are tips on how to style them
Kaftans have been closet staples for decades and are traditional garments which in earlier times were usually worn by women in Asia and the Middle East but in the past few years, this outfit has found many takers worldwide owing to the easy-flowing, laidback and luxurious vibes it offers to the wearers. Add to this the fact that as comfort took precedence over fashion in the lockdown phase, the fuss-free outfit managed to make a grand return and has ever since cemented a permanent spot in almost every woman's wardrobe.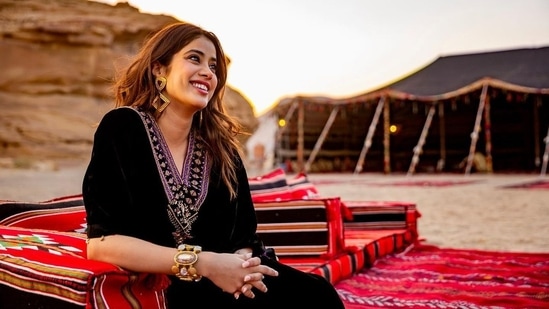 While many of you may consider donning a Kaftan as brunch wear or pulling an all-nighter with your girlfriends, you can wear it as a workwear or bridesmaid dress for one of the wedding ceremonies but to pull off a daring diva look in this not-so-conventional attire, you need to know some basics of styling it right. Well, ladies, to help you dress your best self, we got a few fashion experts onboard to share their tips on how to wear and style Kaftans.
1. Maxi Kaftan for the Comfort Seeker
In an interview with HT Lifestyle, Prakruti Gupta Rao, Co-Founder of the Kaftan Company, swore by easy-flowing maxi-length cotton kaftans and highly recommended working mothers and middle-aged women, in particular, to invest in such fashion pieces. She highlighted that as most maxi kaftans come in a single size with an adjustable tie knot, they elevate the wearer's midsection and are designed to fit all figures. A kaftan in this pattern will look best with floral prints, accessorized with chunky jewelry and a contrasting bag to complete the look.
2. Long Tunic Kaftan for the Bride's Gang
Whether it is your friend's mehendi, haldi, sangeet or cocktail party, a vibrant long tunic kaftan with block prints or handwork around the neckline will do wonders for your overall look without "sacrificing" comfort, claimed Drishti Anand, Co-Founder of LetsDressUp. The fashion enthusiast strongly vouched for a kaftan for such events to make an impression as they bring style, comfort and bling all under one umbrella. She, however, suggested that the bridesmaids or any women wearing an ethnic kaftan, adds ample jewellery to enhance the look, especially at a beach wedding. A small golden clutch with similarly toned earrings and footwear can instantly put the entire look together.
3. Tie-Belt Kaftan for the Wanderer
If you are one of those travellers who constantly invest in breathable, durable and comfortable outfits, consider buying a tie-front wrap dress in a Kaftan pattern. The wide front and adjustable belt at the front make the attire friendly for women of all shapes and sizes and at the same time, allows them to wear it all year round, regardless of how humid or cold the weather is. Prakruti Gupta Rao suggested that when going for such casual, everyday-wear kaftan dresses, pick solid tones to style the same outfit differently without making it look repetitive. The bonus is that these kaftans look equally great with fancy heels or funky sneakers, so there is nothing to worry about on that front.
4. Short Kaftan for the Young College Girls
We have all worn floral and flared dresses during our college days or at some point but the fashion world has evolved, says Anand, and we must too. Since kaftans are unique and in trend, girls can consider a relaxed fit with a V-neckline and an interesting pattern to make a statement, but without going overboard. Such kaftans radiate Grecian vibes and look stunning with long silver earrings or pearl studs and can be given a more Indian vibe if teamed with palazzo. These short Kaftans are versatile and can be paired with denim shorts, slacks or thermal tights underneath for more coverage. It can also be worn as a knee-length dress with high heel boots for a good party look or an outing with friends. In fact, the next time you vacation at a beach, wear a breezy kaftan dress with a pair of funky flip-flops, be rest assured that you have pulled off your vacation look effortlessly.
5. Crinkled Collared Kaftan for Office-Goers
A long, puffy-sleeved Kaftan made of woven, crinkled cotton fabric is a big YES for our corporate fashionistas! The high-neck pattern and length of the attire make it perfect as daywear for quick team meetings or client catchups during summer noons. Make it a point to purchase formal Kaftans in solid and subtle tones, like grey, beige, black, or white, and layer them with a broad leather belt and lastly, don't forget to wear your confidence on your sleeves. There could not be a better accessory than that!
So, are you ready to go on a kaftan shopping spree? Know that this outfit will serve many purposes for you this new year! Refer to this demystified guide and build your kaftan-filled wardrobe.