Gupt Navratri 2023: Dates, history, significance, shubh muhurat time, puja vidhi
Jan 23, 2023 06:56 PM IST
Magha Gupt Navratri 2023: Here's all you need to know about the dates, history, significance and time of shubh muhurat and puja vidhi on the Hindu festival of Gupt Navratri
Considered very important for Tantra Sadhana, the Hindu festival of Magha Gupt Navratri is the first Navratri that will be observed in the year 2023 where nine nights are devoted to worship Navdurga that is the nine forms of Maa Durga. Devotees do Shakti Sadhana in a secret way for 9 days as they believe that blessing are achieved by worshipping the 10 Mahavidyas or the goddesses of Gupta Navratri.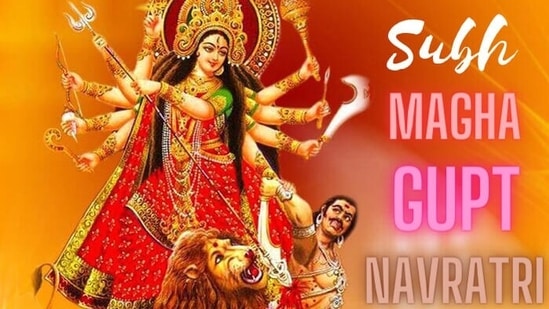 Dates:
This year, Magh Gupta Navratri started on January 22 and will end on January 30 as it lasts from Pratipada Tithi of Shukla Paksha of Magha month till Navami.
January 22 - Ghatasthapana, Shailputri Puja
January 23 - Brahmacharini Puja
January 24 - Chandraghanta Puja
January 25 - Kushmanda Puja
January 26 - Skandamata Puja
January 27 - Katyayani Puja
January 28 - Kalaratri Puja
January 29 - Durga Ashtami, Mahagauri Puja, Sandhi Puja
January 30 - Siddhidatri Puja, Navratri Parana
History and significance:
The ancient story related to Gupta Navratri narrates that once upon a time, sage Shringi was giving darshan to the devotees when suddenly, a woman came out of the crowd and said to Rishi Shringi that her husband is always surrounded by debauchery, due to which she was not able to do any worship but she wanted to serve Maa Durga, worship her and make her life and family successful.
Sage Shringi was greatly impressed by the devotion of the lady and said that though the common people are familiar with Vasantik and Sharadiya Navratri, there are two more Navratri one of which is called 'Gupt Navratri' where 10 Mahavidyas are worshiped and the main goddess form of these Navratras is Sarvaishwaryakarini Devi. If any devotee worships Maa Durga during these Gupta Navratri, then Maa makes their life successful.
Rishi Shringi added that even a greedy, lustful, addicted, non-vegetarian or one who is unable to worship, if he worships the mother during the Gupta Navratras, then there is no need for him to do anything else in life. The woman worshiped Gupta Navratri with full devotion on the words of sage Shringi and her life started changing, happiness and peace came in her house while the husband who was on the wrong path, came on the right path. Hence, it came to be believed that life blossomed again by worshiping the mother of Gupta Navratri.
Time of shubh muhurat and puja vidhi:
The auspicious hours of the Brahma Muhurta are from 05:00 am to 06:30 am on the nine days, while the Abhijit Muhurta will be from 12:00 pm to 12:55 pm where Gupta Navratri worshipers offer lotus flowers to the idol of Maa Lakshmi to increase wealth, offer makeup material to Maa Durga during daily worship to attain unbroken good fortune and pray there is never a shortage of anything in life.