Rashmika Mandanna becomes the 'strong woman' she always wanted to be as she shares a new intense workout video. Watch
Jan 26, 2023 02:43 PM IST
Rashmika Mandanna shared a new workout video on Instagram, saying that she became the 'strong woman' she always wanted to be. The intense clip shows her doing push-ups while balancing her body on workout balls.
Working out requires discipline and strength. Often when we look up to our role models who achieve immense heights in their workout journey, we think we want to reach their level. And celebrities, including Rashmika Mandanna, are no different. The actor recently dropped an intense video of herself working out at the gym, sharing that she became the 'strong woman' she always wanted to be'. Keep scrolling to see what Rashmika said and her gym clip. (Also Read | Rashmika Mandanna looks dreamy in beautiful red lehenga and deep-neck blouse set, internet calls her 'Khubsurat')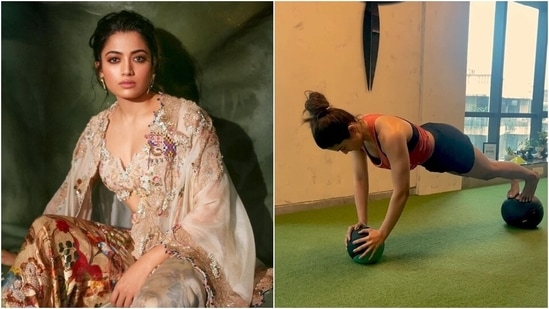 Rashmika Mandanna's inspiring workout routine
Rashmika recently shared a video of herself doing push-ups while balancing her body on workout balls. Sharing the clip, the actor added that she always used to look up to strong women and think she wanted to be like them. But after seeing the clip of herself doing push-ups, she realised that she has become that woman. Read her caption: "I'd once upon a time look at strong women and think to myself - I wish I was like her...and today I look at these videos of myself and go like - "Damn...I am the woman I've always wanted to become! It's crazy how you can be/do/achieve anything you want to if you just focus and work for it."
The clip shows Rashmika, dressed in an orange crop top, black sports bra and matching workout shorts, practising an intense workout routine. She starts by balancing her body on the workout medicine balls and fails at first, but on the second attempt, she successfully manages it. Then, Rashmika starts doing push-ups while firmly placing both hands and feet on the balls.
Push-Up Benefits:
While the variation Rashmika did focuses on reinforcing body balance and core strength, push-ups, in general, help target multiple muscle groups, increase upper-body strength, improve posture, and support bone and heart health.
Meanwhile, Rashmika's video garnered much love from her followers, including Kriti Sanon, who wrote, "Love it!!! [fire emoji]." A user commented, "Fab." A fan remarked, "You're inspiring me to take better care of myself too. Thank you for sharing."
What do you think of the clip?