Trekking in mountains of Turkey is trending among Indian travellers. Here's why
Jan 11, 2023 09:16 AM IST
Looking for an adventure that will take you off the beaten path? Trekking in the mountains of Turkey is the perfect way to do it. With its breathtaking scenery, friendly locals and rich culture, it is an experience that you won't soon forget and Indian travellers can vouch for it
The mountains of Turkey are a sight to behold. With its majestic peaks, lush valleys and breathtaking views, it is no wonder why trekking through the mountains of Turkey is becoming increasingly popular among Indian travellers.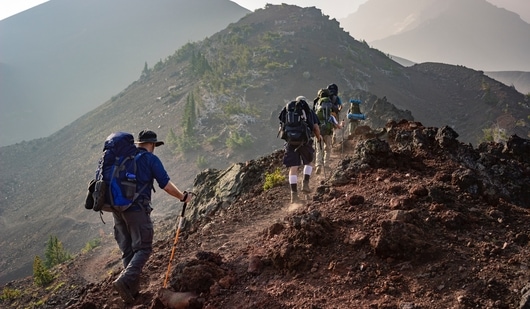 Turkey is a country that offers a variety of experiences, from the bustling cities to the stunningly beautiful countryside. Trekking in Turkey is one of the best ways to explore the country's diverse landscape and get to know its culture and people.
There are a number of trekking routes to choose from in Turkey, ranging from the challenging and strenuous to the more leisurely and relaxed. The most popular trekking routes are those that take you through the majestic Taurus Mountains. These mountains are home to some of the most spectacular scenery in the world and offer a range of different trekking experiences.
The Taurus Mountains are located in the south-central part of Turkey and consist of two main ranges – the western and eastern Taurus. The western range is the higher and more rugged of the two, while the eastern range is more gentle and rolling.
The best way to experience the beauty of the Taurus Mountains is to take a guided trekking tour. These tours are usually organised by local companies and include all the necessary gear and equipment, as well as experienced guides who know the area well.
Trekking in the Taurus Mountains is an experience like no other. The terrain is varied, with lush valleys, snow-capped peaks and stunning views. You can also expect to see a variety of wildlife, including wild boar, wolves, bears and eagles.
In addition to the stunning scenery, trekking in the Taurus Mountains also provides an opportunity to learn about the culture and traditions of the local people. You can visit traditional villages, meet the locals and learn about their way of life.
The best time to go trekking in the Taurus Mountains is during the spring and autumn months, when the weather is mild and the days are long. This is also the best time to spot wildlife, as the animals are more active during these months.
Trekking in the Taurus Mountains is an unforgettable experience. The stunning scenery, the friendly locals and the opportunity to learn about the culture and traditions of the local people make it an experience that will stay with you for a lifetime.
So, if you're looking for an adventure that will take you off the beaten path, then trekking in the Taurus Mountains of Turkey is the perfect way to do it. With its breathtaking scenery, friendly locals and rich culture, it is an experience that you won't soon forget.