2019 Lok Sabha polls: Farmers, caste equations to decide fate in Dindori
Caste equations, the agrarian crisis and water scarcity will dictate poll results in 2019 in the Dindori constituency of Nashik district in North Maharashtra, according to experts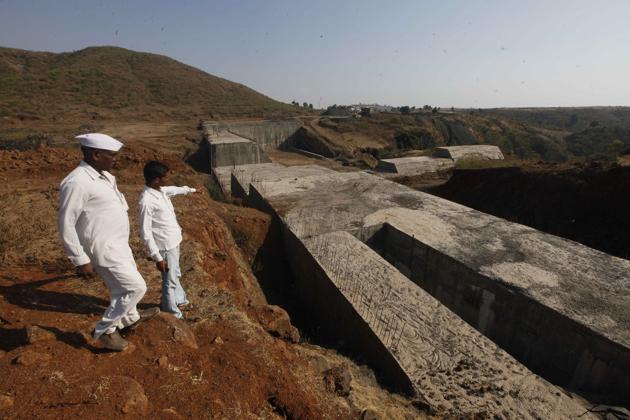 Published on Apr 26, 2019 01:24 AM IST
Hindustan Times |
, Mumbai
Eeshanpriya M S
Caste equations, the agrarian crisis and water scarcity will dictate poll results in 2019 in the Dindori constituency of Nashik district in North Maharashtra, according to experts. The tribal-dominated Dindori constituency will go to polls on April 29.
The community in this constituency is demographically divided mainly into three parts — areas dominated by tribals, Marathas and OBCs. Farmers form a part of all three communities. It is estimated that tribals and farmers together constitute over 60 per cent of this constituency.
Troubled by perennial drought, extreme poverty and uncertainty among farmers, the Dindori area has been in the news, especially over the past two years, as a large number of farmers, and tribals cultivating forest land, took to two impactful protest marches and a strike. One of these protest marches turned heads in urban Maharashtra as it reached Azad Maidan in Mumbai in March 2018, with demands to solve the water crisis, waive off farm loans, and transfer ownership of forest land to tribals cultivating it for generations.
With this backdrop, the Dindori constituency is set to see a four-squared fight, one where CPI(M) leader JP Gavit, who is a seven-time and present MLA from the region and is largely popular among farmers and tribals alike, is pitted against candidates from BJP-Shiv Sena and NCP-Congress.
Both these alliances are also challenged by the fourth factor — VBA candidate Bapu Kelu Varde— who is likely to bag votes from the OBC community, who have traditionally voted for the NCP in this region.
However, this does not imply that NCP has lost its relevance in the region. Of the six Assembly constituencies of Dindori — namely Nandgaon, Kalvan (an ST constituency), Chandwad, Yeola, Niphad, and Dindori (another ST constituency), senior NCP leader and former deputy chief minister of Maharashtra, Chhagan Bhujbal is the sitting MLA from Yeola and his son Pankaj Bhujbal is the sitting MLA from Nandgaon.
Two general elections have taken place in Dindori so far — in 2009 and 2014 — as the Lok Sabha constituency was formed after delimitation in 2008. On both occasions, the seat was bagged by BJP's Harishchandra Chavan. However, BJP did not offer Chavan a ticket this third time, and instead fielded NCP turncoat Dr Bharati Pawar.
Incidentally, in 2014, Pawar who was contesting on an NCP ticket, was the runner-up in Dindori, and bagged 1,95,165 votes. CPI(M) had fielded Hemant Waghere, who was the second runner-up in the constituency, with 72,559 votes.
In the 2009 general elections, JP Gavit had contested the Lok Sabha elections against Chavan, securing 1,05,352 votes when Chavan won the seat with 2,81,254 votes. According to observers, Chavan had an edge that Pawar does not have, that he was popular among tribals and Marathas alike, thus securing votes from farmers within both these communities as well.
At the time of fielding candidates for the upcoming elections, Gavit had approached NCP, requesting the Bhujbals not to field a candidate from Dindori and to leave the seat to CPI(M). Gavit believed his party had an advantage due to the strong support it garners from tribals and farmers. Without NCP competing for these votes, Gavit believed he would be able to put up a fair fight against BJP, which has won the seat both the previous times.
Gavit said, "I tried to reason with NCP to leave this seat for me. This would have worked to their advantage and ours. Right now, with an NCP candidate contesting the elections from this area, we face the threat of splitting the votes between us. This is in-turn going to benefit the BJP by giving them an upper hand."
However, NCP went ahead and fielded Sena turncoat Dhanraj Mahale, who is confident of defeating BJP and CPI(M) in the upcoming elections. According to party leaders, Mahale, the sitting MLA of Chandwad Assembly constituency, his popularity in the area gives NCP has an advantage in three out of six Assembly constituencies in the elections (the other two Assembly seats are held by Chhagan and Pankaj Bhujbal.)
Chhagan Bhujbal said, "I am sure NCP will win Dindori constituency. Gavit won only by 2,000 votes in the last Assembly elections in this area. He may take some NCP votes, but we have a very strong presence in many areas of Dindori constituency."
The BJP on the other hand is banking on Gavit (CPI-M) and Varde (VBA) taking away a chunk of NCP votes. Tushar Waghmare, BJP general secretary of Dindori tehsil said, "The CPI(M) always fields a candidate in order to give the community representation. In the absence of a candidate to vote for, their loyalists among the tribal and farmer community get used to voting for another leader. Then this pattern is difficult to change in subsequent elections."
He added, "With Gavit himself contesting, it is likely that he will get more votes than the CPI(M) candidate did in 2014. But NCP and CPI(M) are going to take away a large portion of each other's vote share."
Pawar said, "I am a strong candidate. The people here want to find representation from an educated person, and I am a doctor. I am also showing people that a woman doing well in politics. This encourages a lot of women to vote for me."
However, CPI(M) is confident it is fighting elections on an agenda that guarantees them people's support. Sunil Malsure who is assisting Gavit in his election campaign said, "No one understands farmers' issues as much as we do. The water crisis is real. We have been taking about revising the river-linking project with Gujarat, that will give this region more water. We have been talking about this issue for as long as anyone can remember."
Gavit said, "Understanding this constituency thoroughly is the key to winning it. There is no uniformity in geography and climate here. The west part of my constituency is forest land, where there is rainfall. The problem in this area is that farmers who cultivate this land do not own it. The east part of my constituency is facing severe drought."
Close Story