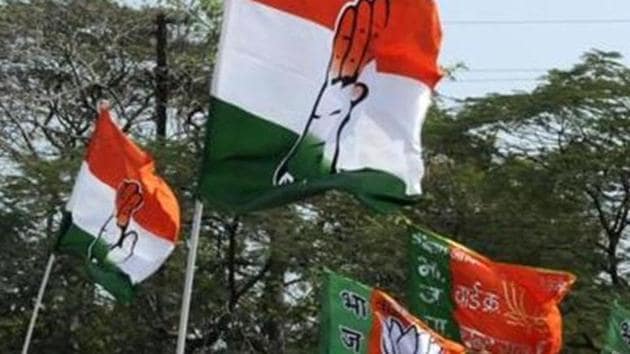 Analysis: What candidate selection tells us about BJP, Congress strategies
New LS may be mix of small number of experienced politicians and large number of newcomers.
By Gilles Verniers
UPDATED ON MAY 14, 2020 02:25 PM IST
The campaigning for the 2019 general elections has finally ended. The results will be out on May 23, but with details of all candidates finally available, it's possible to look at them in various ways. These inform us about variations in electoral strategies and party organisations.
In this piece, we compare the career profile of the Congress and Bharatiya Janata Party (BJP) candidates. We look in particular into the ratio of incumbents and first-time candidates, the number of terms served by re-running MPs, and the numbers and provenance of turncoat candidates.
First-timers and incumbents
The BJP is fielding a majority of first-time candidates in 18 states out of 29 (excluding UTs). If one excludes small states, the states where the reshuffle is the most significant are Chhattisgarh (91%), Andhra Pradesh (83%), Telangana (82%), West Bengal (79%), Punjab (67%) and Kerala (67%). These are states where the BJP does not have a strong foothold and therefore has few or no MPs. The one exception is Chhattisgarh, where the BJP announced that it would reshuffle the candidates, after the defeat suffered in the assembly elections last December. Interestingly, it has replaced incumbents with newcomers, at least in national politics. Most of them have local political experience: four of the 10 BJP candidates in Chhattisgarh are or have been MLAs, two have contested a state assembly in the past, one is a district panchayat member, and another candidate is a former mayor of Raipur. The ratio of first-timers is lowest in stronghold states such as Jharkhand (23%), Bihar (24%), Uttar Pradesh (26%) and Karnataka (37%).
Also Watch | Lok Sabha Elections | Big fights to watch out for in final phase of voting
The Congress is fielding a majority of its own first-time candidates in 18 states as well (excluding UTs). The major states concerned by this reshuffle are Andhra Pradesh (92%), Chhattisgarh (91%), West Bengal (78%), Gujarat (77%), Odisha (72%), Madhya Pradesh (69%), Assam (57%), Delhi (57%) and Rajasthan (56%). The states in which the Congress retains more candidates are Jharkhand (29%), Karnataka (38%), Uttarakhand and Haryana (40% each).
Longitudinal data suggests that the ratio of first-time candidates has been stable since the late 1990s. There used to be a large gap between the two parties, during the phase of ascension of the BJP. That gap reduced once the BJP emerged as the second major national party.
Interestingly, there is significant commonality between the two lists. So, in states such as Andhra Pradesh, Chhattisgarh and West Bengal, it will be first-time candidates of the BJP versus first-time candidates of the Congress, versus, in some states, candidates of a third party.
Experience distribution
How experienced are the non-first-time candidates? We measure that by looking at the average number of terms served by incumbent candidates. We find that most re-running incumbents have served between two and three terms, and that most incumbents that are not re-running tend to be first-time MPs. This indicates that experience is usually rewarded, even if there are few prominent examples of experienced leaders being ignored, such as Sumitra Mahajan and LK Advani. In other terms, first-time MPs have a greater chance of being denied tickets than more experienced one.
Turncoats
The turncoat phenomenon, or candidates switching party affiliations between elections, receives much attention, as parties are keen to advertise fence-jumpers as a signal of their desirability, but the data suggest that the phenomenon might be inflated. To identify turncoats, we rely on PIDs (personal ID), a unique identifier of candidates to state and national elections in the TCPD Candidates and Legislators Dataset. The data captures candidates who changed party affiliations between 2014 and 2019, irrespective of whether they won or lost in 2014. The data does not yet capture MLAs from a given parties contesting on a different party ticket in a Lok Sabha election.
The data reveals that the Congress is fielding 36 turncoat candidates, out of 421 (9%) against 21 for the BJP (5%). Ten Congress turncoats candidates come from the BJP (from seven different states), six from the Samajwadi Party (including four in Uttar Pradesh) and five from the Bahujan Samaj Party (all from Uttar Pradesh). The remaining 12 turncoats come from 10 different parties, including the Telugu Desam Party (3), the Shiv Sena, the Telangana Rashtra Samithi, the Shiromani Akali Dal, the Apna Dal and other small parties.
The BJP is fielding seven turncoats from the BSP, three from the BJD (including Baijayant Panda) and three from the Congress from Andhra, Karnataka and Odisha. Four of the BSP turncoats are Scheduled Caste contestants and the three others OBCs (other backward classes). Some, like Keshari Devi Patel in Phulpur, are coming back to the BJP after having left it in the past. To be sure, the trend may be underwhelming simply because, as mentioned above, the data does not capture the movement of legislators (MLAs) to a rival party.
These numbers are consistent with past trends, whereas the BJP regularly fields 4% to 6% of turncoats, against the Congress, which usually fields 8% of turncoat candidates.
The marginality of the turncoat phenomenon is usually compounded by the fact that they tend to do poorly. There seems to be evidence that voters tend not to reward those who shift party affiliations. Those candidates usually migrate alone, leaving behind them the organisational structure that brought them to power in the first place.
Implications
What are the implications of this data? As we have argued earlier in these pages, the high turnover of candidates feeds the high turnover of MPs. Lesser experienced MPs tend be chucked out by their own parties in greater numbers, while experienced MPs tend to be more protected. This contributes to the making of a small, concentrated, political class that controls party machinery. Among those members of the stable political class, one finds more dynastic candidates, individuals high up in party hierarchy, party leaders themselves, as well as strongmen who use a combination of muscle, money and providing services to retain a grasp over their seat.
This makes sense since veteran politicians have party connections to protect them from party reshuffles. They also have accumulated resources, both material and immaterial, that gives them a comparative advantage towards lesser experienced MPs. They also build over time an autonomous support base, distinct from their party, that gives them leverage with their party bosses.
This election is no different than recent ones, and one expects the new Lok Sabha to be a combination of a small number of experienced politicians and a large number of newcomers. We expect turncoats to perform worse than other candidates.
( Gilles Verniers is Assistant Professor of Political Science and Co-Director, Trivedi Centre for Political Data, Ashoka University. Mohit Kumar, Basim U Nissa and Saloni Bhogale contributed to the data. Views are personal)
Close