Congress's Tom Vadakkan joins BJP, says 'hurt by party's stand on armed forces'
Vadakkan, who has been associated with the Congress for the past 20 years, said: "I believe in PM's development narrative."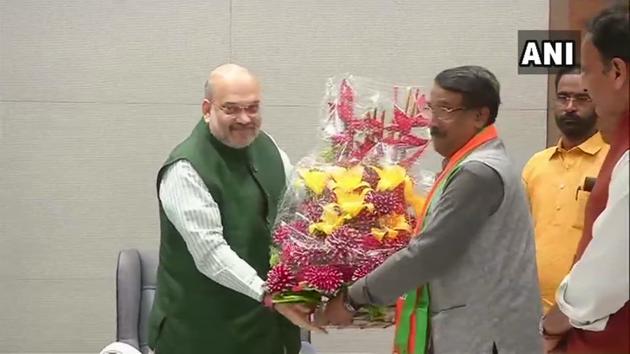 Updated on Apr 22, 2020 04:50 PM IST
In a surprise move, Congress leader Tom Vadakkan on Thursday joined the Bharatiya Janata Party, accusing his former party of questioning the integrity of armed forces. "If some political party that takes a position against the country, then I do not have an option but to leave that party… This is not right," he said, citing the Congress's stance on the Balakot air strike against terror group Jaish-e-Mohammed camp in Pakistan that followed the Pulwama suicide bombing.
"I believe in the Prime Minister's development," the former Congress spokesperson said, stressing that he was grateful to BJP president Amit Shah "who has trusted me and accepted my membership to the party".
"I am also thankful to the Prime Minister who has wished me good luck," he said.
At a media briefing where the BJP showed off its prized catch, Vadakkan attacked his former party's stand after the Pulwama terror attack.
"I left Congress party because when Pakistani terrorists attacked our land, my party's reaction to it was sad… It hurt me deeply when you question the integrity of the armed forces…. I am deeply hurt and that is precisely the reason I am here," Vadakkan said.
Tom Vadakkan, once considered close to Vincent George, a long time aide of Sonia Gandhi, had been associated with the party's media department for nearly two decades, many of them under leaders such as Pranab Mukherjee and VN Gadgil. Vadakkan was the Congress spokesperson and a familiar face on television. In recent years, a Congress leader said, the prominence of other spokespersons such as Pawan Khera, Jaiveer Singh and Priyanka Chaturvedi had riled him.
Vadakkan is lately reported to have been interested in contesting elections. Back in 2014, Vadakkan did make it to the shortlist of candidates from Thrissur but the Congress had to drop him after resistance from local workers.
Tom Vadakkan's exit has stunned the Kerala Congress. "It is an isolated incident", says party leader Rajmohan Unnithan in Kerala. He added that the leadership would have to "ensure that such seniors won't cross over". "The party will examine reasons for his exit", he said.
Topics
Close Story