Lok Sabha election 2019: Kamal Haasan meets Mamata, will campaign for TMC in Andaman and Nicobar islands
Updated on Mar 25, 2019 08:51 PM IST
Kamal Haasan will visit Andaman and Nicobar islands next month to campaign for the Trinamool Congress.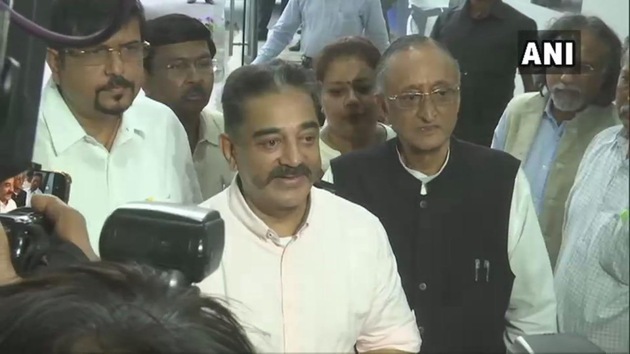 Actor-turned-politician and founder of Makkal Needhi Maiam, Kamal Haasan who met Bengal chief minister Mamata Banerjee on Monday, said he will visit the Andaman and Nicobar Islands on April 6 to campaign for the Trinamool Congress (TMC) candidate.
"I shall visit the Andamans on April 6 to campaign for the TMC candidate. We (MNM and TMC) have an alliance," said the 65-year-old Haasan after his meeting with the chief minister at the state secretariat in Howrah.
"We have struck an alliance with MNM. He (Kamal Haasan) came to wish me well," said Mamata Banerjee.
TMC has nominated Ayaan Mondal to contest for the Lok Sabha seat in the islands. Mondal is the grandson of eight time MP from the Andaman and Nicobar Islands, Manoranjan Bhakta, who won on a Congress ticket.
Bishnu Pada Ray of the Bharatiya Janata Party is the sitting MP of Andaman and Nicobar islands. In 2014, he won by a margin of 7,812 votes
Haasan and Banerjee spoke for about two hours in the afternoon.
The MNM founder added that his focus will remain his home state Tamil Nadu. "But my love for Kerala and West Bengal will continue," Haasan said.
He had earlier announced that he would neither contest the upcoming Lok Sabha polls or the Tamil Nadu assembly bypolls that are scheduled to be held along with the Lok Sabha elections.
Tamil Nadu has 39 Lok Sabha constituencies, where polls will be held in a single phase on April 18.
Incidentally, Mamata Banerjee had invited Kamal Haasan at the inaugural ceremony of Kolkata International Film Festival in November 2017.
Kamal Haasan set up his party in February 2018.