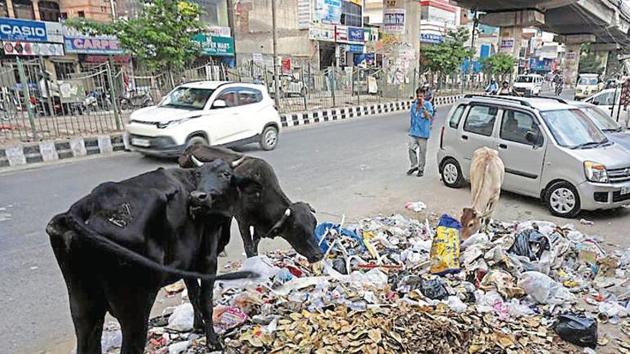 Lok Sabha elections 2019: A crying need to fix the basics first, dream later in West Delhi
Carved 11 years ago, the constituency consists of some upscale neighbourhoods. Ironically, residents are struggling to get basic amenities like water supply, public transport and education institutions
UPDATED ON MAY 01, 2019 07:31 AM IST
The sky-high buildings secured by the gated boundaries of Dwarka, the unauthorised colonies of Palam, or the rural belt of Najafgarh — the West Delhi parliamentary constituency is a reflection of the economic and social divide that makes the national capital what it is.
Every five kilometres, the geography of the area changes, the dialects are different and so do the demands of people.
Carved 11 years ago out of parts of the erstwhile Outer Delhi constituency and areas in southwest district, the West Delhi constituency consists of some upscale neighbourhoods. Ironically, residents are struggling to get basic amenities such as regular water connections, public transport connectivity and educational institutions.
After the delimitation of parliamentary constituencies in 2008, West Delhi was constituted with 10 Assembly segments—Madipur, Rajouri Garden, Hari Nagar, Tilak Nagar, Janakpuri, Vikaspuri, Uttam Nagar, Dwarka, Matiala and Najafgarh. It has a population of 25.43 lakh and a population density of 19,563 inhabitants per square kilometre. While neighbourhoods such as Dwarka, Janakpuri and Rajouri Garden are considered affluent and middle class, areas such as Madipur, Hari Nagar and Matiala are home to migrants and working-class families who live in unauthorised colonies. Parts of Najafgarh, however, add a rural flavour to the constituency.
No matter how varied the constituency is in terms of demography and population, voters said the demands of each neighbourhood are basic and not difficult to achieve.
At one glance, the gated communities of the Dwarka sub-city will not give away its severe water crises. Planned in the 1980s, Dwarka started receiving regular water supply from the Delhi Jal Board (DJB) only in 2014-15.
"It wasn't until 2015 that we started getting regular supply. Before that, most residential societies either relied on water tankers or had bore wells," said Sridhar Kanan, a resident of Kairali Apartments in Dwarka Sector-3.
The BJP's sitting MP and candidate Parvesh Verma said he ensured regular supply to many of these colonies. "Before I was elected, there was a private tanker mafia here. In many of these areas, I went beyond my jurisdictional powers to get regular connections," he said.
Despite its broad roads and Metro connectivity, Dwarka residents have to depend on their private vehicles for daily commute. This is mainly because of the lack of a public bus system. Residents say though routes such as RL-77, RL-75 and 774 touche areas such as Madhu Vihar and Nasirpur, most sectors of Dwarka have no bus connectivity.
A little further towards the working-class neighbourhoods of Uttam Nagar and Nawada, issues such as women's safety and lack of sewer connections and public toilets trouble voters. West Delhi has the highest number of women voters in Delhi at 10,90,797
Sixteen-year-old Anjali Dhawan, a resident of Uttam Nagar, said venturing out after sundown is a strict no in her family.
"The roads are so narrow and poorly lit that it becomes a task to come back home after dark without a male member of the family having to escort me," she said.
In 2014, BJP's Parvesh Verma won the West Delhi seat by a margin of around 2.86 lakh votes—the highest in Delhi. His party has reposed faith in him this time too. The Congress has fielded Purvanchali leader Mahabal Mishra, who was the MP from the area in 2009. Debutant Balbir Singh Jakhar is in the fray, representing the Aam Aadmi Party (AAP). Jakhar is a lawyer and social worker.
Jats, Purvanchalis and Sikhs are the three dominant communities in the constituency. Pockets such as Rajouri Garden, Tilak Nagar, Janakpuri and Hari Nagar have a large Sikh population, while Jharoda, Dichaun Kalan, and Dhansa are Jat strongholds.
Verma, the son of former Delhi CM Sahib Singh Verma, belongs to the Jat community and the party believes it would help him win a second term.
"Yes, I am a proud Jat, but the work that I have done for the villages of Najafgarh along with the welfare schemes of the Central government have made us popular among the voters," said the BJP candidate.
Congress' Mishra, a migrant, is banking on Purvanchali voters to repeat his 2009 performance. Though the AAP has attacked the BJP and the Congress for its "divisive politics" based on caste and community, they have also chosen a Jat face to represent them in the constituency.
Jakhar is a native of Mitraon, one of the oldest Jat villages in the constituency. Jakhar, like Verma, did not give too much weight to his caste, saying it may help secure a win only once. "Maybe the first time you contest luck works and people vote for you because you represent their community, but after that it all comes down to the work that you do."
Sealing, demonetisation and implementation of the Goods and Services Tax (GST) are big issues in the trading hubs of Rajouri Garden, Janakpuri, Uttam Nagar and Tilak Nagar.
Mishra has promised to take up the problems of the traders, especially sealing, for which he blamed the BJP-ruled municipalities. "Many traders in Tilak Nagar and Uttam Nagar have become victims of sealing and the BJP and the AAP have done nothing to support them or get their establishments unsealed. We will take up this issue," the 65-year-old Congress candidate said.
Sealing took a violent turn in Mayapuri where protesting businessmen clashed with the police in which 14 people were injured.
However, not everyone is blaming the BJP for their loss. A section of traders in the bridal goods market of Rajouri Garden and the book market of Tilak Nagar though agreed that they faced losses and yet pledged support for the BJP.
"The BJP has been a more considerate government for businessmen. I agree the business has been dull for the last few months but we will still vote for the BJP," said Mahendra Singh Khera, a trader in Rajouri Garden.
The cause of unauthorised colonies
Voters in the clustered colonies of Vijay Enclave, Dabri, Palam, etc, are divided over their allegiance to the three main contenders. Their issues include basic amenities and water supply.
Sunita Kumari, a resident of Palam, works as a maid in the private neighbourhoods of Dwarka.
However, there have been several occasions when she has had to rush back home in the middle of her work to fill water from tanker that comes unannounced once every day.
"The tanker from the (Delhi) Jal Board comes once a day in our colony and it doesn't have a specific time. Since, my husband and I go to work and our children are in school, my neighbour calls me when the tanker arrives," Sunita said.
Once a voter base of the Congress, the residents of unauthorised colonies shifted to AAP. While Mishra, a resident of Vaishali Colony in Dabri, is banking on his "contribution in getting Master Plan 2021 approved", AAP's Jakhar is hoping that the development works taken up by the state government in illegal colonies will help him win the voters' favour.
Close