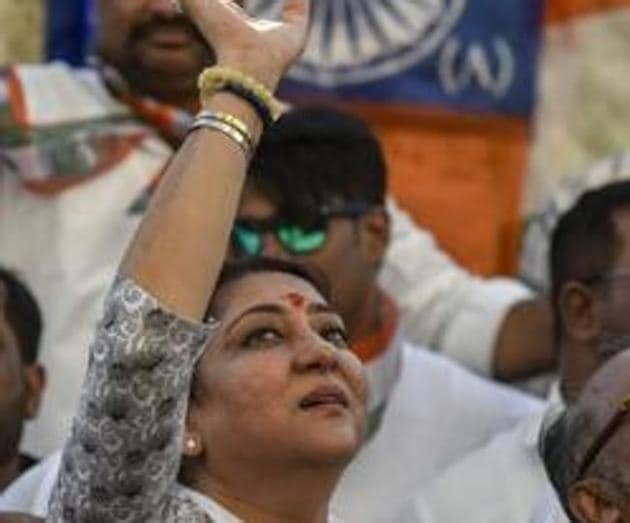 Lok Sabha elections 2019: 'Daughters of North Central' clash in a battle of ideologies
Both the candidates, dressed in Indian attire and flanked by a large number of supporters, don't escape comparison with their illustrious fathers.
Hindustan Times, Mumbai | By Naresh Kamath
UPDATED ON APR 21, 2019 07:05 AM IST
The North Central constituency in the city has turned into an "ideological" battlefield, according to candidates, Priya Dutt, and sitting MP Poonam Mahajan of the Bharatiya Janata Party (BJP). While Dutt has been appealing to voters to save the Constitution, Mahajan has harped on the fact that Narendra Modi is the only choice for India. The two daughters of high-profile politicos — the late Sunil Dutt and Pramod Mahajan — are slugging it out in the constituency, taking their daily campaigns from the high-end localities of Bandra (West) to the narrow gullies of Chandivali.
Earlier this week, while Congress candidate from Mumbai North Central constituency, Priya Dutt, was campaigning in the Golibar Nagar slums in Santacruz, 58-year-old Munnawar Khan, a local, was seen approaching her, requesting her to provide jobs for her sons. "My three children have a hard a time scouring for jobs since demonetisation.The small-scale units have shut down and even the ones surviving, are barely sustaining," said Khan. She added that the candidate's father, Sunil Dutt, always stood up for the voters and now, she looks up to her for succour. Dutt was seen concentrating on chowk meetings and travelling to the bylanes to address the need "to save the Constitution". Her meeting at Golibar was paused briefly owing to the call of Azaan, before senior citizens arrived with bouquets to wish her. "I'm here to save the Constitution. We need to oust this government which has created an atmosphere of hatred."
In contrast, Mahajan was seen starting her address with the chant of "Bharat Mata Ki Jai", calling upon voters to ditch the weekend holidays and cast their ballots. "The 2019 elections are more important than the 2014 one. In the past five years, we've laid down the foundation and now, it's time to build the structure. This election will determine your future," she said at her meeting at the plush Krushal Towers in Tilak Nagar, among a crowd of primarily BJP supporters. Her message echoed with the attendees. One of them, Chetan Maheshwari, a resident of Krushal Towers, said [Narendra] Modi has enhanced India's image in the world. "Do we have any choice other than Modi," he asked.
As soon as Mahajan's speech was over, residents rushed to take a selfie with her. From there, the sitting MP was seen zipping off to Nehru Nagar, where she had a meeting with office-bearers of societies. Here too, her message was the same: there is no alternative to Modi as India is a major power because of him. Ajay Parab, who represented the MHADA colony, said the need for strong national security demands that Modi be brought back. "We do have local issues, but this election concerns the whole of India and we need Modi to tackle Pakistan."
Both the candidates, dressed in Indian attire and flanked by a large number of supporters, don't escape comparison with their illustrious fathers. "I'm carrying on my father's legacy of social service," said Dutt. Mahajan also acknowledged her father, adding that she slogged hard in the past five years to seek another term.
Close