Lok Sabha Elections 2019: Nimbalkar likely to be BJP's candidate from Madha constituency
Updated on Mar 26, 2019 04:36 PM IST
Nimbalkar's candidature has come days after BJP inducted Ranjitsinh Mohite-Patil, son of Vijaysinh Mohite-Patil (NCP leader) on March 20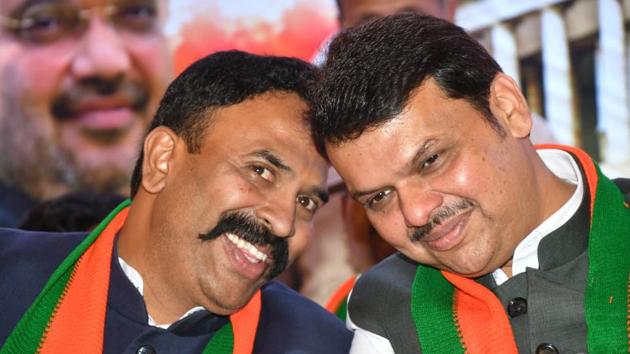 Hindustan Times, Pune |
, Pune
Abhay Khairnar
Ranjitsinh Naik Nimbalkar, former Congress leader is likely be Bharatiya Janata Paty's (BJP) candidate from Madha. Nimbalkar joined BJP in the presence of Devendra Fadnavis, chief minister in Mumbai on Monday.
Nimbalkar's candidature has come days after BJP inducted Ranjitsinh Mohite-Patil, son of Vijaysinh Mohite-Patil (NCP leader) on March 20. Vijaysinh was persuading NCP leaders to give a ticket to Ranjitsinh from Madha constituency, but as NCP denied the ticket, he joined BJP.
Madha constituency was once considered as a stronghold of Nationalist Congress Party (NCP) which was represented by Sharad Pawar during 2009-2014, and Vijaysinh Mohite- Patil.
As NCP has given the ticket to Sanjay Shinde, brother of the member of legislative assembly (MLA) Baban Shinde from Madha, the equations in the constituency have dramatically changed. Shinde who has a strong mass base and is presently the president of Solapur zilla parishad is often engaged in cold war with Mohite-Patils.
As Pawar himself announced the name of Shinde from Madha, Mohite-Patil family members have decided to keep away from contesting the election, say family sources.
So as Mohite-Patil family members are not contesting the election, BJP tapped Nimbalkar, who was Satara district Congress party president and son of former Shiv Sena member of Parliament (MP) Hinjurao Naik Nimbalkar.
The family members of Mohite-Patil waited patiently for announcement of NCP candidate from Mahada constituency. As NCP gave a ticket to Sanjay Shinde, Mohite-Patil members avoided a direct fight with Shinde.
Meanwhile, both Shinde and Mohite-Patil families are considered as strong parties in Solapur district and have a good mass base. There is a cold war in between both the families, but they never contested elections against each other.
'If family members of Mohite-Patil confront me, I will expose them'
Sanjay Patil, NCP leader and Madha candidate, said, "The voters know very well that as the sugar factory, district co-operative bank and milk industry is ailing, to save the institutions and for personal gains, Ranjitsinh Mohite-Patil has joined the BJP. If the representative from Mohite-Patil family confront me, I will expose them in front of the voters."
Ranjitsinh was not available for comments on the issue, but close sources from Mohite-Patil family confirmed that they do not want to contest the Lok Sabha elections.