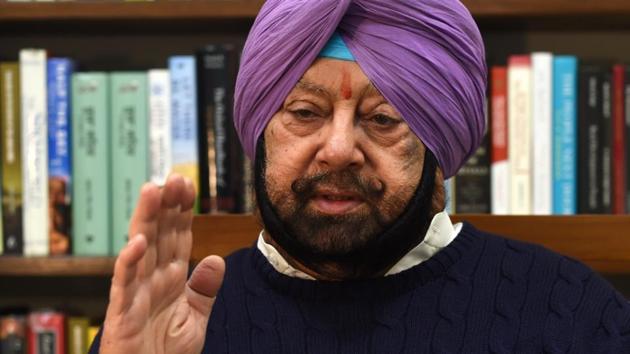 Lok Sabha elections 2019: PM's nationalism card won't work, says Punjab CM Captain Amarinder Singh
Always the straight talker, Punjab chief minister Captain Amarinder Singh is dismissive of the BJP's poll narrative pegged to national security and nationalism after the Balakot strikes "This card will not work.
Hindustan Times | By Ramesh Vinayak and Navneet Sharma
UPDATED ON MAR 14, 2019 10:38 AM IST
Two years after he led the Congress to a landslide victory in the Punjab assembly poll on his 75th birthday (March 11), Captain Amarinder Singh faces his first major electoral test – not an easy one, at that – in the Lok Sabha elections. Though a worsening financial crisis forced the ruling Congress to water down or shelve some of its key poll promises, Amarinder is counting as much on his performance – chiefly Rs 4,678-crore debt waiver to 5.8 lakh small farmers and a tough action against gangsters and terror modules – as on his uncanny ability to rival Akalis on the Panthic turf.
On the eve of the second anniversary of his government, two-time chief minister sat down with Executive Editor Ramesh Vinayak and Senior Assistant Editor Navneet Sharma in an impressively well-stocked study at his official residence on Wednesday and fielded a range of questions with his signature candour. Dismissive about the BJP's new-found poll narrative on national security, he insisted that the Congress attack line on joblessness, farm distress and Rafale deal would prevail over Narendra Modi's nationalism pitch in the run up to D-day. Excerpts:
How do you look at your two years?
It has been an interesting journey. We took over the state when it was in a completely dismal financial position, with a debt of Rs 2.10 lakh crore on us. In 2007, when we left the government, it was Rs 43,000 crore. They (SAD-BJP government) added over Rs 1 lakh crore and left another Rs 31,000-crore food credit account debt for us. It took us a while to settle down. We had two types of promises to fulfil. Those related to management, such as doing away with halqa in-charges, and those with financial implications. As the finances started improving, we started implementing our plans. Things such as anti-drug drives were kicked off right away. On employment front, we have given about 6.5 lakh jobs in government and private sector.
But, Punjab is still drowning in debt ?
There is no denying that. Unfortunately, the goods and services tax (GST) and demonetisation also added to our burden. For a long time, land was not transacting and revenue from stamp duty too nosedived. But things are now picking up. Power consumption in the industrial sector has gone up by 13%. Places such as Mandi Gobindgarh, which were totally shut with only 8-10 units operating, are buzzing again. All 300 are now operating and they are expanding business. We are giving full support to industry. As for finances, we could not do many things we wanted to. If things improve, we will do more for people. For instance, we could take debt waiver — from current Rs 2 lakh — to a higher level.
Any specific steps you have taken?
We have brought down fiscal deficit from 12% to 2%. Revenue from stamp duty is going up. In Mohali alone, over 300 registrations have been done in two months. We have had a bumper crop and tax collection is looking up. However, the procurement by the Centre has been tardy. My godowns are choc-a-bloc. I don't have even a single room for the coming wheat crop. We have told the Centre to lift the old stock, but they are not doing it.
There are reports that FCI may opt out of procurement.
Then, Punjab will be in crisis. They have to procure till crop diversification takes off. For instance, the Centre has announced MSP for maize, but there is no agency such as FCI to support it. The maize price drops to 50% of MSP sometimes. If you want diversification, we need consumption agencies. That's why we are encouraging the food industry. Punjab has kept the nation afloat for long, but the government has to create new markets as wheat and rice are being grown in many other areas now.
What about the promises such as smartphones, unemployment allowance, minimum income to farmers and Rs 1,500 welfare pension?
Our first priority was debt waiver for which we needed Rs 9,500 crore. I could have easily given mobile phones, but we needed smartphones. We have selected the phone, but could find only 25,000 units. Orders have been placed, and we will distribute about three lakh phones in the first phase after the Lok Sabha elections, starting with schools and colleges.
Do you review performance of your ministers? If yes, are you satisfied?
I don't interfere in their functioning unless we lay down a policy that a minister has to stick to. It is their job to run their show. We have very good ministers and other who try very hard. When I became agriculture minister for the first time, I used to flounder sometimes…you learn gradually. Some newcomers are taking time, but they are doing alright. It will not be right for me to single them out.
Even after two years, your ministers keep blaming the previous SAD-BJP govt for everything. Is it fair?
Yes, I and everyone else blame them for financial mess because we faced that situation. I don't think there is any blame otherwise. We have shortage of doctors, nurses, teachers and policemen, but I can't get these because of fund shortage. We have 50% staff shortage.
There are bushfires of protests by farmer unions, teachers, government employees and other groups. Will these impact the election?
These protests were brought to a head with the impending elections. They are trying to extract whatever they could before the polls by twisting the government's arm.
The Congress didn't do well in 2014 Lok Sabha elections, winning just three seats. How confident you are this time?
It was a different scenario in 2014. The AAP had become a great symbol of future. They got lot of support. In Patiala, the Congress got 15,000 less votes than the AAP. The situation was similar in Sangrur and Bathinda. Everyone was running to the AAP. But now the party has split, and same is the case with Akalis. The Congress is united and other are divided. This suits us very much. The people have begun to realise that the Congress is delivering on development. When we came, gangsters were running amok. They are now in the lock-up or have been eliminated. We have knocked down 22 terror modules that were being pushed by Pakistan. They are totally on the defensive.
A year ago, you handed over a list of 10 active handlers of Khalistani terrorists to Canadian PM Justin Trudeau. Has it helped?
During the diplomatic standoff with Harjit Sajjan (Canadian defence minister) and later Trudeau, the Government of India fully backed me. Trudeau wanted to go to Amritsar, but they said he must call on the CM. He refused and was told to go to Bangla Sahib (Delhi) instead. (External affairs minister) Sushma Swaraj called me up to inform about it. Then, it was all sorted out and we met at Amritsar where I handed over the list to him. Subsequently, both countries have been working together on it. Where there was a total freeze on Canadian information earlier, now a thaw has come.
Due to Ranjit Singh Commission and subsequent withdrawal of sacrilege cases from CBI, Akalis are alleging vendetta. Are you targeting the Badals?
If there is any feeling that we are trying to target the Badals, it is not correct. It's for the SIT to carry out investigation, reach conclusion and decide who they want to prosecute. I am told that over 300 persons have been interviewed and they are reaching a conclusion. The Ranjit Singh Commission also points in the same direction. I can only quote the commission report. We are not interested in anyone particular.
But Akalis have rejected the Ranjit Singh Commission and want a CBI probe instead.
They have rejected the findings of their own panel — Zora Singh Commission. They just want to delay matters. You don't trust your own commission. You don't trust Ranjit Singh commission. You don't trust SIT. Whom do you trust? They gave it (probe) to the CBI which said no and returned it. Our SIT head is an officer who has been in the CBI for 14 years.
Even before the Ranjit panel came out with its findings, some ministers were demanding action against the Badals and ex-DGP Sumedh Singh Saini. Two of them are now accusing the government of colluding with the Badals.
Some people just want me to catch hold of Badals and put them behind the bars. How do I do that? If a man is proven guilty, the law will take its course. The last time also I did not put him in jail. It was the court that put him in jail because his lawyer never showed up. We have got a law in this country. You may not like Badal or Sukhbir but they can't be put in jail just like that. The SIT has to take its own decision.
Some Congress ministers have been making a Panthic pitch and are keenly looking at SGPC elections.
The Congress never interferes into functioning of any religious body. But every Sikh has a right to decide who should run the SGPC. The gurdwara body polls have been due for three years. The BJP will never allow the elections till Badals are ready. Whenever elections come, I will support whichever group opposes the Badals. Enough is enough. It's not their fiefdom.
After the Pulwama attack and Balakot strikes, the pre-poll narrative is being dominated by national security and nationalism. Will this affect Congress's poll prospects in Punjab?
I don't see it happening here or elsewhere. It was the job of Air Force. When 40 soldiers were killed in Pulwama, it was government's duty to act. I have read that the strikes have been partially successful. Till we get proof, people are going to doubt it. The BJP is trying to sell it because there is nothing else to sell but they should not play with national security.
But it seems to have overshadowed the Congress campaign on rural distress, jobs and even Rafale.
There are still two months to go (for the elections). A realisation will come that this (airstrikes) would have been done by any government in power... Unemployment and farm distress are going to affect the people more.
How do you look at poll prospects of the Congress given that the grand alliance is still to take shape?
I think a time has come and parties will realise it is in the interest of the country that we get together to defeat the BJP and protect the secular structure (of the country). I don't think India can afford it.
How confident are you about the Kartarpur corridor coming up this year?
I am sure it will come up. But they (Pakistan) want to get the Sikhs' sympathy towards the 2020 Referendum (demanding a separate Sikh state). That's why he (Bajwa) wants the Kartarpur corridor to be made. It is a different agenda for them.
Do you still believe it is an ISI project?
100%. ISI does all these things. Who ran the Tarafalgar Square thing (on the referendum)? It was an ISI fellow. All these foreign operations are ISI-controlled.
Two senior-most IPS officers have challenged Dinkar Gupta's appointment as DGP. What do you have to say?
It's a Supreme Court judgment. We had 13 officers and their names were sent to UPSC. We were supposed to send six, but we sent all 13 names. The DGP was selected from the panel of three sent back by the UPSC. I am against this entire process because it amounts to encroaching upon the federal system. The state's powers are being usurped. We have challenged this in the apex court.
You promised to discourage liquor consumption, but liquor quota has been increased this year. Why this contradiction?
Till such time we can resolve the financial crisis, we can't do this. Liquor is one of major sources of income. How are we going to pay our salaries? We were hoping to mop up Rs 6,000 crore from excise, but we got ₹5,400 crore.
Another poll promise was to make it compulsory for industrial investors to recruit 50% of their workforce from Punjab. What's the status?
All jobs in industry are being given to Punjabis. They have good skill levels and are getting these jobs.
We keep hearing from your ministers and MLAs that you have outsourced governance to bureaucrats. Is this true?
There is no truth in this. All ministers are independent. They function independently. Their secretaries report to them. If they need to meet me, they come together. They were probably talking about is DCs and SPs in districts. They have been told that all MLAs are public representatives and have to be shown due respect. There is nothing in the hands of bureaucrats.
How do you look at poll prospects of Congress given that mahagathbandhan is still to take shape?
I think a time has come and parties will realise it is in the interest of the country that we get together to defeat the BJP and protect the secular fabric. We have large Muslim and Christian population. All sorts of people live here.
After Rana Gurjit Singh, another minister Bharat Bhushan Ashu is now facing charges of wrongdoing. What are you doing about it?
I have already ordered an inquiry. I will not pre-empt it. Let the report come. To say that let's pull down the building, it is not on. There is a law to deal with these things. If we do this, it's goonda raj.
Navjot Singh Sidhu and you took contradictory stands on the IAF strikes. Hasn't that sent confusing signals to party supporters?
I think friendship makes Navjot forget other realities. He says talk peace but you talk peace when the time is right, not anytime...
There is a feeling that Sidhu is in a hurry to become CM. What will you tell him?
Come and take it over today.
Close