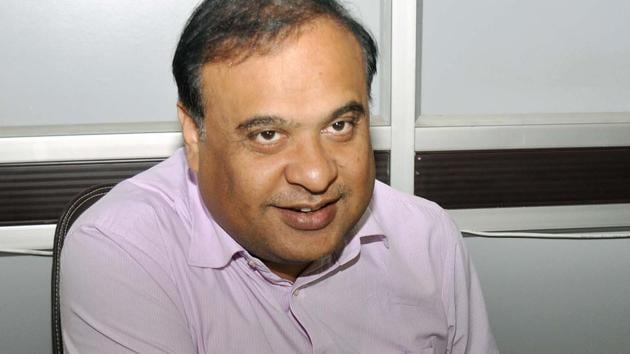 Lok Sabha polls 2019| 'This election is not about citizenship bill... it's about making Modi PM again': Himanta Biswa Sarma
BJP is committed to bring in the bill through a process of consultation and consensus. The vision document will speak about CAB. We are not shying away from raising CAB. But this poll is not about CAB. It is about making Narendra Modi the Prime Minister again, said Himanta Biswa Sarma.
Hindustan Times, Guwahati | By Sadiq Naqvi
UPDATED ON MAR 24, 2019 10:28 AM IST
In an exclusive interview with Sadiq Naqvi, senior Assam minister and convener of North East Democratic Alliance Himanta Biswa Sarma lays out BJP strategy in Northeast.
Is Citizenship (Amendment) Bill still an issue?
Yes, BJP is committed to bring in the Bill through a process of consultation and consensus. The vision document will speak about CAB. There will be a chapter on Northeast in the national vision document and CAB will be there. We are not shying away from raising CAB. But this election is not about CAB. It is about making Narednra Modi Prime Minister again. So the whole list of his good work will be discussed.
So you will discuss it in election rallies in Brahmaputra Valley, too?
Everywhere. Why Brahmaputra and Barak? There is one television channel and if you raise something in Barak Valley, it will be heard in Brahmaputra Valley.
You wont lose any votes because of it?
No, we will gain. If you are serving these Hindu, Christian displaced people, everyone will bless you.
But Assamese are angry in Brahmaputra Valley…
Who are the Assamese? Am I not an Assamese? Who has given this theka of Assamese? I am a proud Assamese, and I espouse their cause. Assam does not just belong to agitators, it belongs to me. So they can raise their issue, I can also raise mine and let the people decide. There is a need for certain modifications in the bill, you need to have certain safeguards.
What is the reason that the party has changed so many sitting MPs in Assam? One of the sitting MPs RP Sarmah even alleged that the older guard is being ignored.
Winnablity is our basic criteria, for we need to win ten seats. In this election, in our assessment there are better candidates who can win. But having said that, whether it is a Kamakhya Tasa, Ramen Deka, everybody is accepting the party's decision and they are working. You will not see them out of action for more than two to three months. Everybody will have a job, everybody will have a responsibility and you might see our senior leaders with more responsibility than today. In our party, this is the policy that if you are not giving him a ticket today you cannot keep them out of the system for too long because they have experience and they have their own merits.
Three months back in our conversation you said that if the party gives you a ticket you would contest Lok Sabha polls. The state president of the party said you were willing to contest. The state unit, too, sent your name. What happened that you were not fielded?
Amit Shah, my party president, feels that I should not contest in this election. Many things are going to happen in Northeast in a positive way and he said I should be on the ground so I have accepted his decision.
Is it because NEDA, the regional alliance led by the BJP seems to be in a disarray?
I think we are not looking for anything for this election. When I had a discussion with the prime minister and party president, it was centered around post election. We have whole agenda for Northeast. They feelm in order to implement this agenda, I should be in the Northeast and I should not go to Delhi at this time. So if you see his (Amit Shah's) statement also, he said 'filhal'. So at this time I should be in Northeast. And I think that it is a rare honour.
Did Amit Shah give that statement at your insistence?
If you have a fair idea of a personality like Amit Shah, then you would not put that question to me. Nobody can influence Amit Shah. Whatever he said, I think it is his genuine opinion.
You are the convenor of NEDA. Why, despite being a partner in the alliance, the NPP is fielding candidates in Assam, in Arunachal Pradesh where BJP MLAs have joined the party and BJP is fielding candidates in Meghalaya where the NPP has a better chance?
NEDA as an alliance was established to keep Congress out of Northeast. So all my partners, whatever they are doing, they are doing their bit to keep the Congress from coming to power. Post election you will see that NEDA will have 19 to 20 MPs and all of them will support prime minister Modi.
Basically in Arunachal Pradesh, where the MLAs quit to join the NPP, they pose no danger to the BJP?
We have no issue because there was a fair discussion with Conrad Sangma. We have agreed where he should not field candidates in strategic seats. If we both contest, then the seat may be won by Congress like the inner Manipur consitutency. In Assam, on many seats they are not fieldign candidates. So in places where there is a chance of Congress winning because we are fighting, we have decided to go the other way... In Arunachal, Congress will be in third or fourth place. Either NPP will win or we will win.
So BJP is helping the rise of NPP which is perceived as a Christian party.
I will not answer this question because there is no Hindu, Muslim or Christian party in India.
But you call AIUDF a Muslim party.
AIUDF, their leader (Badruddin Ajmal) and followers are communal and fundamentalists. The party has to be registered under the Election Commission and Indian Constitution.
Will the Muslims vote for the BJP?
Going by the development, they should vote. And I think the indigenous Muslim community of Assam both in Barak and Brahmaputra Valley will vote lock, stock and barrel for the BJP and we will get more votes from the community than the Congress.
So how many seats do you think NEDA will win?
19 out of 25, I think is a feasible and possible target.
Close