Latest from citizenship bill
The contentious Citizenship (Amendment) Bill, 2019 was passed on December 11 in the Rajya Sabha and on December 9 in the Lok Sabha.

Published on Dec 12, 2019 12:25 PM IST
The citizenship bill seeks to give Indian nationality to non-Muslim refugees from Pakistan, Bangladesh and Afghanistan who came to India before December 31.

Published on Dec 12, 2019 11:23 AM IST
A curfew has been enforced in Guwahati, the principal city in Assam, where the army was called in on Wednesday night after tens of thousands of protesters took to the streets against the bill.

Updated on Aug 04, 2020 01:14 AM IST
The Sena on Monday voted in favour of the bill in the Lok Sabha, but on Tuesday afternoon, Shiv Sena chief and Maharashtra chief minister Uddhav Thackeray backtracked, saying they had apprehensions over a few issues and would not back the bill in the Rajya Sabha until their concerns were addressed

Updated on Dec 12, 2019 08:47 AM IST
Responding to a question by member of Parliament Kirodi Lal Meena, Rai informed the Rajya Sabha that the data related to Hindus and Sikh refugees who came from Afghanistan and Pakistan was not centrally maintained.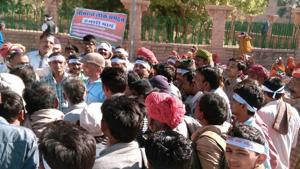 Updated on Dec 12, 2019 05:52 AM IST