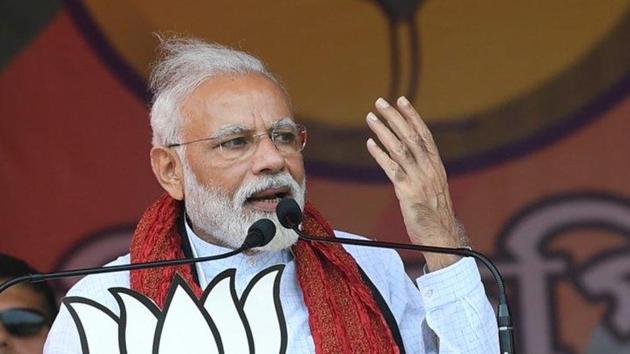 PM Modi, Mamata Banerjee engage in war of words at Bengal rallies
At back-to-back high-voltage rallies in Jalpaiguri and Cooch Behar districts in the afternoon, Prime Minister Narendra Modi and Bengal Chief Minister Mamata Banerjee traded charges over a range of issues.
UPDATED ON APR 28, 2020 10:38 PM IST
Prime Minister Narendra Modi and chief minister Mamata Banerjee got into a war of words again on Sunday as they addressed rallies in West Bengal's Jalpaiguri and Cooch Behar ahead of the first phase of Lok Sabha polls on April 11.
"Mamata Banerjee has an alliance with people who want two prime ministers; one for Delhi and one for Jammu and Kashmir," Modi said at his election rally in Cooch Behar.
Modi's comments came days after National Conference leader Omar Abdullah on Monday last referred to the post of Prime Minister Jammu and Kashmir had until the 1960s. Abdullah, who has shared the stage with Banerjee in Opposition events, said they would restore the nomenclature if they return to power.
Modi referred to scams like Saradha and added everyone knows who benefitted from them. "I promise to expose all of that," Modi said.
An unlicensed fund media conglomerate Saradha Group went bust in April 2013 and wiped out deposits from mostly low-income investors.
Banerjee hit back at her rally in Jalpaiguri. "I have seen many prime ministers. But I have never seen a man of such low taste as we see now. Today you [Modi] referred to Narada and Saradha scams and you said this with one of the main accused in both scams sitting on the same dais," Banerjee said. She was referring Mukul Roy, who is now with BJP.
Modi said Bengal's people had put their faith in Banerjee but she shattered it. "The aunt-nephew duo has handed over Bengal to extortionists,'' Modi said without naming Banerjee's nephew and Parliament member, Abhishek Banerjee. "She has blocked all development."
Watch: On Mamata's turf, PM Modi says 'Speed-breaker didi is scared'
Banerjee said Modi can't get away with lies. "All institutions, starting from Reserve Bank of India to Central Bureau of Investigation are failing."
Modi said the erstwhile communist government resorted to misrule in Tripura and people were disgusted. "But while people of Bengal put their faith in Didi, voters in Tripura selected us. We changed Tripura, but in Bengal, Didi adopted a short-cut and followed the same path shown by the Marxists she defeated,'' he said
Banerjee referred to her visit to the BJP-ruled Assam last week and said the state's people come to Bengal for medical treatment.
Modi said infiltration was one of the biggest problems in the region. "We want to amend the citizenship laws and introduce strict laws against human trafficking but Didi is opposed to both. We will rescue Bengal from TMC terror."
Banerjee called the Citizenship Amendment Bill, which lapsed before Parliament could ratify it in February, draconian. "It will make people aliens in their homeland. We will never allow its implementation."
Voting in West Bengal will take place in all seven phases from April 11 to May 19. The BJP has been trying to make inroads into West Bengal which has the most -- 42 seats -- after Uttar Pradesh and Maharashtra. It has peaked in its western and north Indian strongholds like Uttar Pradesh, where it won 71 out of 80 seats to return to power in 2014. In Tripura's Udaipur, Modi attacked the Congress and the Left Front.
Close