Begum Hamida Habibullah 1916-2018: Lucknow loses an icon
Mar 14, 2018 01:15 PM IST
One of Lucknow's icons Begum Hamida Habibullah, a former UP minister and pioneer in women empowerment, passed away at the command hospital. She was 102.
One of Lucknow's icons Begum Hamida Habibullah, a former UP minister and pioneer in women empowerment, passed away at the command hospital here on Tuesday morning, her family said. She was 102.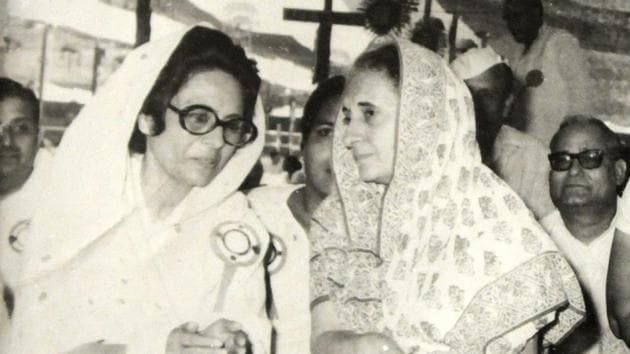 Jyotsna Habibullah, her granddaughter-in-law, said Begum Habibullah had been ailing for long. Her last rites took place at her family's native village Saidanpur in Barabanki.
People thronged the Habibullah estate in Lucknow to offer their condolences to the family. Governor Ram Naik also visited the family to pay his last respects to Begum Habibullah.
Uttar Pradesh cabinet minister Rita Bahuguna Joshi said Begum Habibullah will always be remembered for her contribution to empowerment of Muslim women. "Her demise is a big loss for the state," she said.
Daughter of the late Nawab Nazir Yar Jung Bahadur, chief justice of the Hyderabad High Court, Begum Hamida was also a front-ranking social worker. She was also a recipient of the HT Woman Lifetime Achievement Award.
Born on November 20, 1916, she spent her early years in Hyderabad.
Her political career started in 1965 after her husband Major General Enaith Habibullah, founder commandant of the National Defence Academy, Khadakwasla, Pune, retired from service.
She was elected member of Legislative Assembly (MLA) from Haidergarh (Barabanki) in 1969 and served as state minister of social and harijan welfare, national integration and civil defence from 1971–73 and tourism minister from 1971-74. She was also a member of the executive committee of the Uttar Pradesh Congress Committee (UPCC) till 1980 and a member of (elected) the All India Congress Committee (AICC) from 1969. She was the President of Mahila Congress, UPCC, from 1972-76. Thereafter, she was a member of the Rajya Sabha from 1976 till 1982.
She played a major role in furthering women's education in the region and she was the founder president of the Avadh Girls' Degree College (AGDC).
"She held the college close to her heart and frequented it to interact with students and staff. She took a keen interest in all the activities of the college," recalled Upma Chaturvedi, the college principal.
She was also president of Talimgah-e-Niswan College since 1975, an institution for education of Muslim girls, founded by her mother-in-law, the late Begum Inam Habibullah.
Begum Hamida Habibullah was also a patron of the All India Women's Conference, Nari Sewa Samiti Lucknow, Cheshire Homes India (Lucknow) and member of the Sainik Kalyan Board, Lucknow. She was a member of the Lucknow University executive council from 1974 to 1980.
Her son Wajahat Habibullah, a former IAS officer, was the first chief information commissioner of India and chairman of the National Commission for Minorities.