Big hotels with several ACs have power load of just 5 KW
Published on Jun 22, 2018 03:04 PM IST
It has been found that some hotels in Charbagh, Naka Hindola, Lalkuan, Pandariba and Aminabad areas in Lucknow are running on a meagre power load of 5 to 10 KW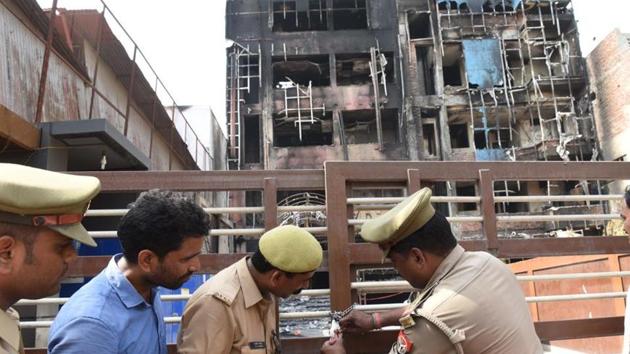 Imagine a large hotel using several air-conditioners, heaters, electric stoves, washing plants etc., and having a sanctioned power connection load of just 5 to 10 KW. Normally, 5 KW power load is sanctioned for use in houses.
However, in a startling revelation, it was found that some hotels in Charbagh, Naka Hindola, Lalkuan, Pandariba and Aminabad areas of Lucknow are running on a meagre power load of 5 to 10 KW.
These new facts raise questions over the role of Lucknow Electricity Supply Administration (LESA) and Directorate of Power Safety in granting power connection to such hotels as most of them don't have the mandatory clearance from the directorate.
"Most of the hotels in Charbagh and surrounding areas don't have clearance of the directorate," said director, Directorate of Power Safety, Shubhra Saxena
The fire incident in Charbagh Hotels -- SSJ International and Viraat Hotel – on Tuesday also points towards connivance of power employees with the hotel owners in creating a situation that led to the deadly fire.
SSJ International and Viraat Hotel were having a sanctioned load of 52 KW while each of them were using over 30 ACs, heaters, electric stoves, washing plants etc. However, these hotels never bothered to take clearance of the directorate before taking power connection. LESA officials, too, did not direct the hotel owners to take clearance from the directorate before sanctioning their power connection.
According to Saxena: "These two buildings did not have safety clearance from the directorate. In fact, most of the hotels in Charbagh, Naka and Pandariba don't have safety clearance. How they have got power connection, is a matter of investigation."
She further said, "We only act when we get complaints about any building not taking safety clearance from us. We act against such buildings by writing to LESA to not release power connections to them."
Saxena added, "The inquiry report on fire incident is yet to reach me. I will surely share the reasons of the fire in these hotels as soon as the report comes."
Former Charbagh corporator Ram Gopal Jaiswal says, "Most of the hotels in Naka, Charbagh, Lalkuan and Aminabad are using heavy power load. However, a few of them located in small lanes still continue with domestic connections, instead of taking commercial connection. These hotels cannot be noticed at first site as some of them have taken off their signboards while and some others have downed their shutters fearing action."
Defending his department, LESA general manager (cis-Gomti) Anshul Agarwal said: "Power connections are not released without the sanction of Directorate of Power Safety. During last two days we have verified the sanctioned load of several hotels. I can assure you of full transparency in checking load and will not hesitate in taking action against people found guilty of releasing unauthorised power connections."
A committee formed by district magistrate will soon begin a survey of power connection load in hotels of the area, Agarwal said.
Close Story
Personalise your news feed. Follow trending topics