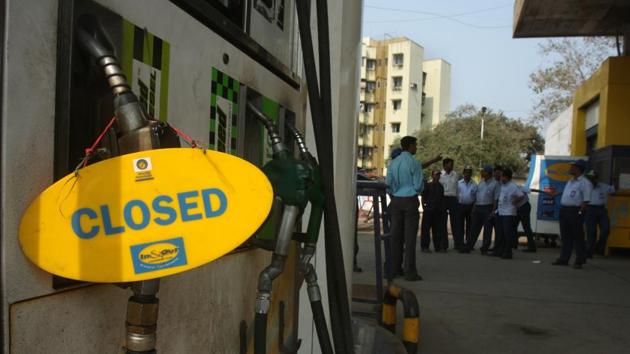 Ex-petroleum firm staff, two ITI pass-out aides behind UP petrol pump scam
They had trained one Rajendra, who installed the chips in hundreds of petrol pumps across the state. Rajendra was arrested by UP STF while the others are yet to be nabbed.
Hindustan Times, Lucknow | By Rohit K Singh
UPDATED ON MAY 08, 2017 07:13 AM IST
A Delhi-based former petroleum company employee is suspected to be the mastermind of the state-wide racket of petrol pump owners who were using remote-controlled electronic chips in their dispensing machines to dupe consumers.
He was being assisted by two Lucknow-based Industrial Training Institute (ITI) pass-outs. The duo had trained an electrical technician, Rajendra in installing the cheating chips in hundreds of petrol pumps across the state.
The revelations were made by Rajendra during interrogation by the UP Special Task Force (STF) officials.
The scam was unearthed after the arrest of Rajendra.
"Rajendra has revealed that he came in touch with the two ITI pass-outs while he was employed at a city petrol pump around seven years ago. The duo taught him how to install the chips on fuel dispensing units of petrol pumps," said a senior STF official.
Rajendra claimed he initially worked for his trainers but gradually started to work independently by purchasing these cheat chips from Delhi and Kanpur.
The STF official said several other people were trained by the two ITI pass-outs, who had pursued electrician's course from a city ITI around eight years ago.
He said the duo was trained by the Delhi-based former petroleum company employee. The mastermind learnt this trick while working for a petroleum company in Delhi and is said to have been in the duping business for the last 10 years.
"We are trying to track down the mastermind and his two associates as their arrests could expose a nationwide network," said the STF official.
He said Rajendra had also revealed the identities of two persons from whom he used to purchase the chips that were provided to him with a diagram to install it. He said efforts are on to nab them.
"They seemed to have disappeared soon after coming to know about the raids on petrol pump," said the official.
There is, however, no clue yet about the person who developed the chip.
On Thursday, the STF raided seven petrol pumps in Lucknow and recovered at least 15 electronic chips and 29 remote devices from the fuel filling stations. The officials sealed all the seven petrol pumps, and recommended cancellation of their licences.
According to STF officials, initial probe revealed that around 80% of the petrol pumps across the state were using the cheat chips and Uttar Pradesh petrol pump owners were siphoning off an estimated Rs 200 crore per month.
Close