French President Emmanuel Macron to inaugurate UP's largest solar plant in Mirzapur
Mar 05, 2018 10:35 AM IST
Macron will inaugurate the 75MW solar power plant at Dadar Kala village and address locals on March 12.
French President Emmanuel Macron will inaugurate Uttar Pradesh's largest solar power plant, at Dadar Kala village in Mirzapur district, during his proposed visit on March 12.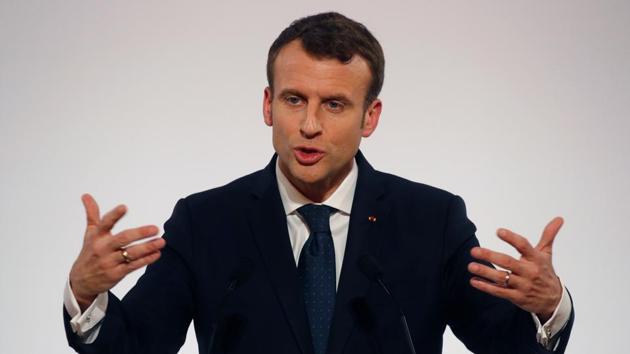 Mirzapur district magistrate Bimal Kumar Dubey confirmed the development.
"French President Macron will arrive at the solar power plant at Dadar Kala in a helicopter. He will inaugurate the plant and address locals. He is likely to spend around 45 minutes at the plant. After the inaugural ceremony, he will fly to Varanasi," Dubey said.
In Varanasi, Macron will attend events with Prime Minister Narendra Modi, who is likely to accompany him to the plant for the inaugural ceremony. However, the district authorities said they have not received protocol communication in this regard.
The largest solar power plant of the state has been set up by a French company, Engie Solar.
Tushar Malik, construction head of the company, said the solar power plant at Dadar Kala village is all set to generate 75 megawatt alternating current (AC) and 101 megawatt direct current (DC).
In Varanasi, the district magistrate, Yogeshwar Ram Mishra said after receiving initial indications about the proposed visit, the district administration had started preparations.
Mishra recently held a meeting with top police and administrative officers at his office to discuss preparations for the day-long proposed visit of Modi and Macron, said an official who did not wish to be named.
Modi will host a lunch for Macron in Varanasi and the duo is likely to visit the Assi Ghat, people familiar with the matter said.