Ghats lead a 'paanful' existence in Varanasi
Updated on Mar 30, 2017 07:30 PM IST
The Varanasi Nagar Nigam imposed a blanket ban on gutkha, paan, tobacco spittle at the ghats around six months ago.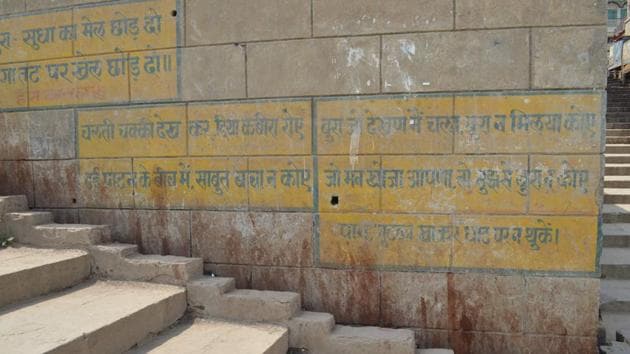 Paan (betel leaf) and tobacco spittle has stained parts of Varanasi's iconic ghats.
Take the case of the Assi Ghat. It was here that Prime Minister Narendra Modi wielded a spade in November 2014 to remove silt and launch the Varanasi leg of the Swachh Bharat campaign.
Today, many spots on the steps of Assi Ghat bear tell-tale signs of gutkha stains. It seems that those chewing paan and tobacco have been making a mockery of a sign which says Kripaya yahan na thuken (Please, don't spit here). This ghat receives a large number of visitors daily from sunrise to sunset.
The scene is similar at Dashashwamedh Ghat, Rajendra Prasad Ghat, Pandey Ghat, Tulsi Ghat and a few other ghats.
Though dustbins have been set up on the stairs, people spit on the surface and not inside the bins.
The Varanasi Nagar Nigam imposed a blanket ban on gutkha, paan, tobacco spittle at the ghats around six months ago. But no one observes the ban, the violation of which entails a fine of Rs 500.
The municipal corporation, in association with sanitation activists and locals, has carried out several drives against spitting but not with much success.
Varanasi mayor Ramgopal Mohale says, "Spitting is already prohibited to maintain the beauty of the ghats. To keep an effective check on paan, gutkha and tobacco chewing at the ghats, we will carry out a drive. It will begin in a day or two."
Biancone Sonia, a French tourist, says: "Stains at several spots on the ghat stairs are irritating. It appears people spit recklessly. The stains must be washed off and cleanliness maintained at the ghats.".
Her friend Gentile Elizabeth says: "Varanasi ghats are very beautiful. We travelled all the way from France to India to catch glimpses of the ghats which were clean by and large but there were stains at some spots at the corner of the stairs. Stains should not be there."
"Finding stains on the ghat stairs is really disappointing. The authorities concerned should keep an effective check on gutkha, paan spittle at the majestic ghats," Chetna, a resident of Patna, says.
Prabhu Sahani, a boatman, says a drive against those chewing tobacco is needed.
Gopal Yadav, a resident of Dashashwamedh area, says, "Many visitors freely spit at the stairs, ignoring warnings."
Using soap or detergent powder to wash clothes at the Ganga is also prohibited. But detergent soaked clothes on the stairs are a common sight at Pandey Ghat, Assi Ghat and Rana Mahal Ghat.
Personalise your news feed. Follow trending topics