People with no knowledge of religion criticising me, says Yogi Adityanath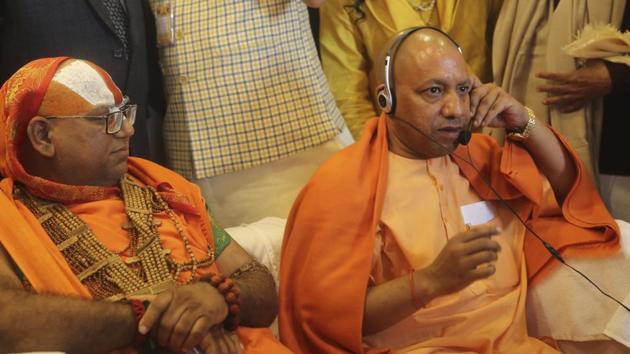 Updated on Dec 03, 2018 11:02 AM IST
Hindustan Times, Prayagraj |
, Prayagraj
HT Correspondent
Facing flak over his recent statement where he reportedly termed Lord Hanuman a Dalit, chief minister Yogi Adityanath on Sunday said even those who did not have any knowledge of Hindu religion were criticising him.
Yogi, who was in Prayagraj to attend 'Kumbh Abhishek' at Shri Adi Shanker Mandapam temple, said: "People who do not know Hindu religion are reacting to the literal meaning of every word that I spoke. Criticising anyone is easy but extending support for completion of a work and making an effort successful is tough."
Addressing a public meeting in Malakheda area of Alwar (Rajasthan) recently, Yogi had reportedly said, "Bajrang Bali hamari bhartiya parampara mein ek aise lokdevta hain jo swayam vanvaasi hain, girvasi hain, dalit hain, vanchit hain (Lord Hanuman was a forest dweller, a Dalit and deprived)."
Yogi stayed at the temple for an hour before proceeding to poll-bound Telangana for campaigning.
During his brief visit to the city, Yogi was shown black flags by Samajwadi Party (SP) workers while Congressmen burnt his effigy to protest his recent comment on Lord Hanuman.
"Kumbh is a major cultural, religious and social event of India's 'Sanatan Parampara'. Although Kumbh Mela is held at four different places in the country but the one organised in Prayagraj enjoys special importance. It is a major attraction not only for Indians but for devotees from other countries too," Yogi said.
He also appealed to the people to make Kumbh a memorable event for crores of devotees and tourists.
Before participating in 'Kumbh Abhishek', Yogi also offered prayers at Bade Hanuman temple and Shanker Vimaanmandapam temple. He also talked to the Shankaracharya of Kanchi Kaamkoti peeth Vijeyendra Saraswati through video conferencing.
While the CM was returning from 'Kumbh Abhishek', three activists of the Samajwadi Party showed black flags to him. Acting swiftly, the police stopped the activists and detained them.
Upset over the slow pace of development works as part of preparations for Kumbh, Congress workers torched the effigy of the CM at Jawahar Square in Chowk area.
President of City Congress Committee Nafees Anwar said the entire city had landed in a mess in the name of development and no quality check of the work was being done.
Photo Caption 1 and 2: UP CM Yogi Adityanath speaking at the 'Kumbh Abhishek' ceremony on Sunday.
Photo Caption 4 and 5: UP CM Yogi Adityanath at the ceremony.
Photo Caption 6: UP CM Yogi Adityanath talking to shankaracharya of Kanchi Kaamkothi peeth Vijeyendra Saraswati through video conferencing.
(All pics by Anil Kumar Maurya/HT)
Congress activist burning effigy of UP CM Yogi Adityanath in Prayagraj on Sunday.
(Pix by Sheeraz Rizvi/HT)
Close Story