On June 11, Javed Mohammad was arrested for allegedly instigating violent protests in the city's Atala locality against derogatory remarks on Prophet Mohammed by suspended Bharatiya Janata Party (BJP) spokesperson Nupur Sharma and expelled BJP leader Naveen Jindal. His arrest came a day after the violence.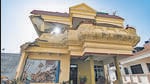 Published on Jul 17, 2022 12:05 AM IST
Here are today's top news, analysis, and opinion. Know all about the latest news and other news updates from Hindustan Times.

Published on Jul 05, 2022 04:58 PM IST
The house was brought down by authorities on June 12, a day after Mohammad was arrested on charges of instigating violent protests against derogatory remarks on Prophet Mohammed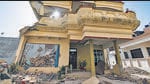 Updated on Jun 23, 2022 08:11 AM IST
This comes a day after the Uttar Pradesh police named Javed a "mastermind" behind the violent protests against former BJP spokesperson Nupur Sharma's remark on Prophet Mohammad.

Updated on Jun 12, 2022 02:01 PM IST
The railway stations at Jhansi, Bhopal and Ayodhya have been renamed in recent times by the respective state governments.
Published on May 02, 2022 10:49 AM IST