Sand art for voter awareness
Published on Jan 30, 2017 01:32 PM IST
Sand sculptor Sudarsan Pattnaik and students made sand sculpters at the Magh Mela to encourage UP residents to vote in the upcoming state assembly elections.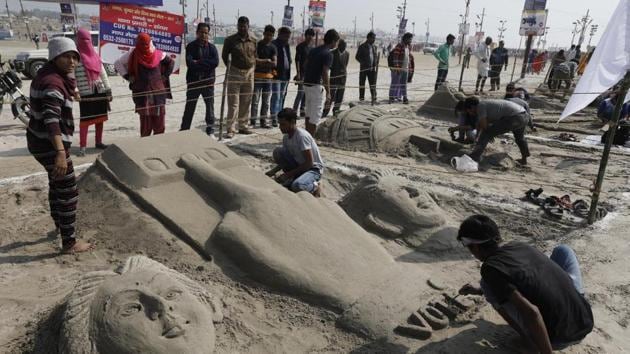 Hindustan Times |
, Allahabad
Smriti Malaviya
Renowned sand sculptor Sudarsan Pattnaik appealed to the youth to vote in large numbers in the UP assembly polls through some amazing creations of some students at the Sangam on Sunday. Pattnaik was on his maiden visit to the city on the invitation of district administration for creating voter awareness through his unique art.
He and DM Sanjay Kumar supervised the Namame Gange sand art competition. The artist also gave some useful tips to students who tried their hands at sand creations. Hundreds of onlookers gathered near these sculptures and also appreciated the work done by students and Pattnaik.
"I was surprised to see the beautiful sand sculptures made by around 60 students. Through the sand art, I want to give message to people to vote in large numbers in UP elections. Voting is a national duty and every voter should participate in the electoral process," said Pattnaik, while talking to Hindustan Times.
"The other thing that has left me surprised is the mega arrangement at the Magh Mela. I have been to many countries but nothing could match the breathtaking beauty of Sangam, Magh Mela and sea gulls. Even as thousands of people are residing in Magh Mela, the mela area is so clean and beautiful. It is rarely seen elsewhere," he added.
Pattnaik said they were on the way to creating another world record by creating the world's largest sand castle in Odisha. District magistrate Sanjay Kumar said they had launched a month-long voter awareness drive.