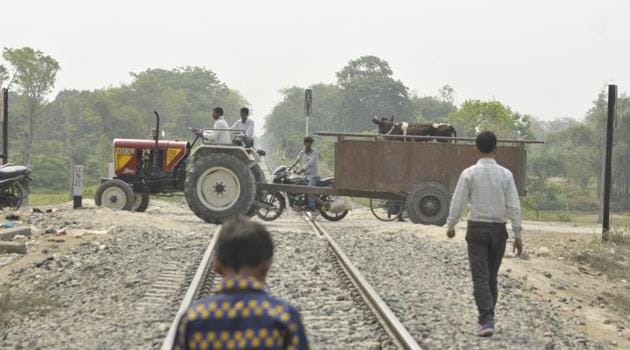 Soon: Train collision avoidance system along tracks
The system is programmed to sound pre-installed hooters at unmanned crossings, loud enough to alert commuters.
PUBLISHED ON MAY 01, 2018 12:16 PM IST
Unmanned railway crossings would no longer be a threat to road users as the Railways is going to install train collision avoidance system (TCAS) along the tracks. Railway officials said the system is programmed to sound pre-installed hooters at unmanned crossings, loud enough to alert commuters.
The system would be a boon in minimising mishaps at unmanned level crossings, said officials.
Recently, 13 students died after a school van driver drove his vehicle packed with students into an incoming train at an unmanned crossing in Kushinagar.
"We are on the job to either transform unmanned crossings into manned ones or to establish overbridges. But till then, TCAS would be a major tool to avert accidents, once it is in place," said Sanjay Yadav, chief public relations officer (CPRO), North Eastern Railway (NER).
As of now, UP has over 800 unmanned railway crossings that are yet to see closure or transformation into manned crossings. Though Railways claims to have made best possible arrangements to minimise mishaps at unmanned crossings fatalities, there is still a lot to be done.
UP is largely covered by three zones – North Eastern Railway (NER), Northern Railway (NR) and North Central Railway (NCR).
Of the total number of unmanned crossings, NER has the maximum – 633 such crossings. NR comes next, having more than 121 unmanned railway crossings in the state, largely under its Lucknow division.
Nitin Choudhary, CPRO, NR said, they too have a target to eliminate unmanned crossings in the next two years.
However, the NCR has the minimum number of unmanned crossings. As per data with NCR, the total number of such crossings in NCR is around 75. However, after the installation of the TCAS —the Research Design and Standard Organization (RDSO)-made gadget designed to reduce chances of collision – accidents at unmanned crossings are expected to be minimised.
RDSO officials said the device would first be installed in the locomotives plying in North India region, where foggy weather is a major cause of concern. Hooters would also be installed at levelled and unmanned railway crossings.
They said among the routes, preference would be given to the locomotives plying on prime routes leading from Delhi. "It includes routes like Delhi-Lucknow, Delhi-Bhopal, Delhi-Kanpur, Delhi-Chandigarh and others," said an official.
He said preference would also be given to the locomotives hauling prestigious trains like Shatabdi, Rajdhani Express, Garib Rath and semi-high-speed train 'Tejas'.
The decision to install TCAS was initiated last year, after the Railways was done with the successful trial run. "Successful trials were conducted in August last year," said an official with the Signal Directorate – the wing of RDSO that has evolved the unique device.
The official further said the tests were carried out on the 250-km track falling under South Central Railways. "Besides, as a pilot project these devices were installed in around 40 locomotives and their performances were closely monitored," he added.
It took around nine months for the Signal Directorate, RDSO, to come up with the innovative device that works with the help of GPS and radio signals.
It is also said to be the most cost-effective anti-collision devices available. "It is the cheapest one. If imported, the device of similar kind would cost around Rs 50 to 60 lakh for one kilometer. But our TCAS costs around Rs 12 to 14 lakh (for a kilometer)," he added.
Close