VHP activists protest at Taj Mahal, seek removal of turnstile gate blocking temple path
Jun 11, 2018 11:42 AM IST
Ravi Dubey, a senior office-bearer of the VHP, said the Archaeological Survey of India officials did not pay heed to their requests.
Stating that a turnstile gate being installed at the western entrance of the Taj Mahal "blocked the path to a 400-year-old temple", VHP activists staged a protest and removed a part of the gate on Sunday.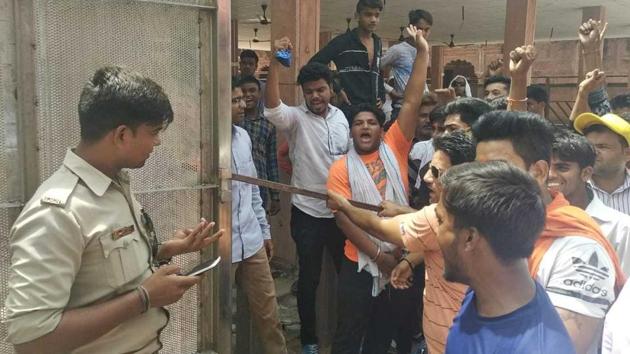 A case has been lodged against 30 people, including five named persons, on a complaint by Tarun Dutt Sharma, conservation assistant for Archaeological Survey of India (ASI) at Taj Mahal.
Ravi Dubey, Mohit Sharma, Niranjan Pathak, Madan Verma and Gulla have been booked under sections of Public Property Damage Prevention Act, Criminal Law Amendment Act and the Indian Penal Code (IPC), Tajganj police station in-charge, Shailendra Singh said, adding that a search is on for the accused.
Ravi Dubey is a senior office-bearer of the VHP.
Frames were being laid for installing turnstile gates and door frame metal detectors (DFMD) at the western gate of the Taj Mahal by ASI when right wing activists arrived on the scene, raised slogans and removed one of the gates.
"The gate being installed is blocking passage to Siddheshwar Mahadev temple at Basai Ghat alongside the western wall of Taj Mahal. The temple is 400 years old and has been in existence prior to Taj Mahal. So there is no logic in blocking passage to the temple. But ASI officials did not heed to our requests," Dubey said.
"We dislodged the turnstile gate and will not allow it to be installed at any cost. We will meet the district magistrate on Monday to press our demand," he said, also claiming to be the general secretary of Siddheshwar Mahadev Temple Committee.
ASI officials were not immediately available for comment.
Police and administrative officials tried to pacify the protesters.
"An alternative passage has been made for access to the temple, but protesters insisted on the old passage on which turnstile gates are being placed," circle officer, Taj security, Prabhat Kumar said.
A large number of tourists who turned up at the monument on Sunday were taken aback by the sudden protest.