With no money for tractors or oxen, UP girls pull plough at their field while father tills land
While poverty-stricken 60-year-old Acheylal Aharwar tills his land, his two daughters Ravina, 13 and Shivani, 10, are forced to pull the plough every morning in Badagaon village of UP's Jhansi district.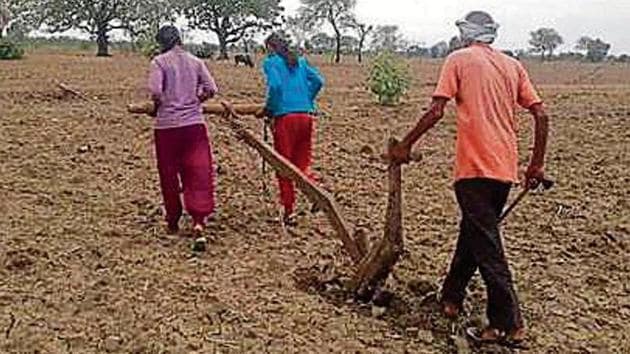 Updated on Jul 01, 2018 01:01 PM IST
Loan waivers and special packages notwithstanding, one of the realities of Bundelkhand is poverty-stricken 60-year-old Acheylal Aharwar tilling his land, while his two daughters Ravina, 13 and Shivani, 10, ploughing the same.
With no money to hire a tractor, or buy a pair of oxen, the trio makes it to the field early in the mornings in Badagaon village of Maurainpur in Jhansi district.
"We are waiting to sow the land with sesame (oilseed) crop," says Acheylal.
"With some good showers and overcast sky promising more rain, we saw a flicker of hope for a good crop and so we decided to do it ourselves. We never did such a task before," says Shivani.
"This, because they have no choice," says Ramadhar Nishad, a farmer leader from the area.
Another farmer leader Shivnarain Singh Parihar, who also lives in Mauranipur town, said Acheylal lives in a kachcha (mud and thatch) house in Badagaon with his wife and two daughters. The other four daughters are married.
Acheylal said that he has a white ration card that gets him 20 kg of foodgrain each month (5 kg per person in the family). He has appealed for a red ration card that makes him eligible for government housing, toilet schemes, etc.
"I had presented my case at the tehsil diwas on May 15 this year. There is no response yet," he says.
The district magistrate, sub-divisional magistrate and other officials were present at the tehsil diwas.
DM Shiv Sahay Awasthi could not be reached for comment as he was reportedly out of station. Chief development officer (CDO) Nikhil Tikaram Fundey said, "The matter has not come to our notice. We will get the case details and the application by the farmer checked."
Nishad said, "Acheylal is not only poor but also under a debt of Rs 1.5 lakh from various money lenders. Even the clothes that he and his family wear are often the ones that villagers donate them. Villagers also donate him grains or some other crop produce from time to time."
Ravina studies in Class 8 and Shivani in Class 7 in the village school. It is their vacation time, which they insist, are being well utilised.
Close Story