Election Commission removes top Mizo official ahead of polls, triggers political storm
The Election Commission on Friday ordered immediate removal of a senior IAS officer accused of meddling in revision of electoral rolls in poll-bound Mizoram.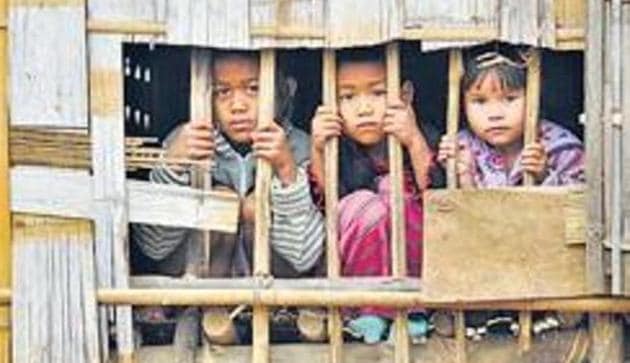 Updated on Nov 03, 2018 08:41 AM IST
The Election Commission on Friday ordered immediate removal of a senior IAS officer accused of meddling in revision of electoral rolls in poll-bound Mizoram.
The order issued by SB Joshi, secretary, EC, relieved Lalninmawia Chuaungo, Principal Secretary (Home) in Mizoram government of his responsibilities with immediate effect and asked him to report to the Union home ministry.
It also ordered that the 1987 batch IAS officer of the Gujarat cadre, who was on inter-cadre deputation in Mizoram since April, 2018 "shall not be assigned any work relating to Mizoram or deputed to Mizoram till the process of election is over in Mizoram."
On October 29, Mizoram chief electoral officer (CEO) SB Shashank had written to EC complaining about interference by Chuaungo in revision of electoral rolls of Bru refugees from Mizoram residing in Tripura and had asked for his removal from the present post.
More than 32,000 Brus had fled from three districts in Mizoram following ethnic clashes in 1997 and have been living in relief camps in Tripura. Several political parties and groups in Mizoram feel they should not be allowed to cast votes for the assembly polls in the relief camps in Tripura.
The election commission decision sparked off protests from political and civil society Mizo groups.
The Joint NGO Coordination Committee, a conglomeration of major organizations in Mizoram has given an ultimatum to the CEO to quit his post and leave the state before November 5.
Mizoram goes to polls on November 28.
In its Friday order, the EC observed that a series of incidents had happened in Mizoram causing concern about completion of summary revision of electoral rolls and successful conduct of free and fair polls.
It mentioned of how enrolment forms of Bru voters were stolen in August 23 and how the Mizoram government directed that identity slips issued to Bru families (which were being used to identify eligible voters) were declared not to be used for enrolment.
The EC noted how Chuaungo gave "evasive replies" on why the direction regarding identity slips was issued. It also mentioned how the IAS officer questioned deployment of central armed police force for the polls.
Chuaungo also wrote to CEO, Mizoram conveying Mizoram government's opinion that special arrangements should not be made for voting by Bru refugees in the relief camps in Tripura as it could "vitiate the atmosphere".
The EC concluded "continuance of Chuaungo in his present post would have adverse effect on conduct of smooth, free and fair election" in Mizoram.
The EC directed Chief Secretary of Mizoram to appoint Lalrinliana Fanai, an IAS officer of 1997 cadre as Secretary (Home) in Mizoram and send a compliance report immediately.
The CEO's complaint against the home secretary to the election commission hasn't gone down well with Mizo organizations. At a meeting on Friday evening, they issued an ultimatum to Shashank to quit his post and leave Mizoram by November 5.
"We are unhappy with unnecessary blame heaped on Chuaungo, a Mizo officer, by the CEO. We urge him to leave the state soon," said a senior functionary of Mizo Zirlai Pawl, Mizoram's biggest youth organization.
Chief Minister Lal Thanhawla also defended the IAS officer and said Chuaungo "had not made any mistake" and "like any other Mizo" he was just objecting to Bru refugees voting from relief camps in Tripura.
Lal Thanhawla cited an April, 2014 order issued by the EC to buttress his stand.
"Provisions would be made during future elections to the Lok Sabha and the legislative assembly of Mizoram for exercise of franchise within Mizoram by Bru (Reang) voters living in Tripura enrolled in voter lists in Mizoram," the EC order had stated.
While Chuaungo could not be reached for his comments, the CEO refused to talk on this issue.
"I would not like to say anything regarding that issue," Shashank said on Friday.
Close Story