5 of the coolest kitchen design trends of 2018
From high-tech tools to lighting, if you are planning to revamp your kitchen decor, you need to be updated on the latest trends. Here are some expert-recommended pointers to help you along.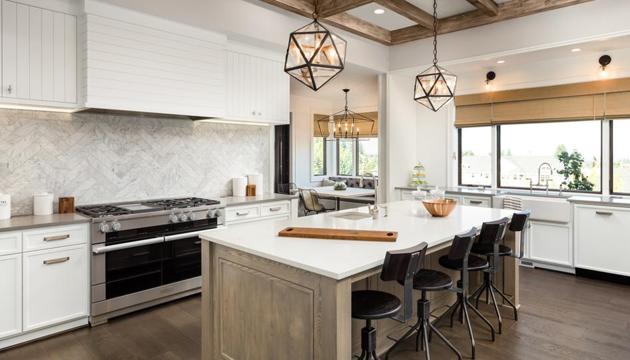 Updated on Jul 08, 2018 11:19 AM IST
With home owners becoming design-conscious, it is crucial for the kitchen design to be exciting as well as functional. Ensure the kitchen is well-lit, and the space has high-tech tools and easy-to-reach shelves, say experts. Ashish Bahal, Head of Interior Lighting Design, Philips Lighting India, and Rakesh Kaul, President and Chief, Consumer Business, HSIL Limited, give a lowdown on the trends for kitchens:
* High tech tools: Technology is becoming a dominant part of the kitchen now. From the blender and microwaves to auto-clean chimneys, people are relying on gadgets to make the kitchen space cleaner, and maximise cooking efficiency.
+ +
* Statement kitchen shelves: Open shelving is becoming popular with homeowners as it provides the perfect space to decorate with accessories. However, for consumers who wish to minimise the problem of dust, there are closed shelves with decorative handles, dark colours and patterns to create a rich and luxurious atmosphere.
* Multipurpose kitchen islands: Kitchen islands are no longer an afterthought but have emerged as the 'jack of all trades'. They are meant to create an impact while attending to multiple uses by homeowners. Storage is an important element of a well-designed kitchen and kitchen islands are a great way to utilise space to stow away built-in appliances like microwave and ovens and help the space look clutter-free.
+ +
* Light it up: Kitchen is a multi-activity space, and hence needs multiple layers of light to suit both the functional purpose and design elements. Task lighting and ambient lighting are imperative to aid the functional use, while accent lighting and decorative lighting enhance the aesthetics of the space. A kitchen also needs adequate horizontal and vertical illumination.
* Two-tones are better than one: The two-toned theme gives depth to the kitchen making it look bespoke. It is advisable to use darker colours at the bottom and lighter shades going up. This makes the kitchen look bigger. The two colours or materials that you choose can either be bold and vibrant or subtle depending on your style.
Follow @htlifeandstyle for more
Close Story