7 home decor trends to take your interiors to the next level
Jul 05, 2018 05:33 PM IST
Giving your home a makeover? Here are some of the top decor trends of 2018 that you need to keep in mind.
Buying the home of your dream is something that everyone aspires for. The next task is to decorate your living space in a way that reflects your personality and style. And while your home must be comfortable, it should also be inclusive of the latest trends.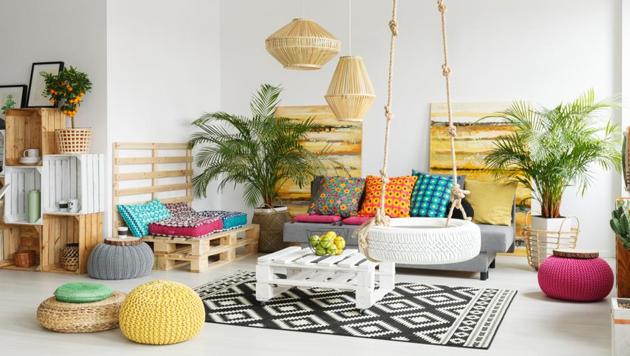 * The pastel-hued look: The look and feel of your home is significant. This design incorporates silhouettes to create an earthy-yet-classy look. It is sober and gracious, and has an old-world air of hospitality.
* The 'mixed metals' effect: So far, brass, gold and other metallic hues have been ruling the interior design space. But now, white plaster is entering the mix in a big way. This is especially true when it comes to light plasters. Substitution of plaster with plaster-used resin might raise a few questions regarding durability, but the effect they present is stunning. Silver and polished nickel hues are also back into the fray.
* Add-ons: Macramé, fringeing, tufting or tassels and feathers are all a big hit this season. You can customise the space with cushions, wall hangings, throws, rugs or accessories. These trend will add a wonderful handmade quality to your living space. You can also experiment with wall-hangings on plain walls to add interest.
* Gelato colours for your kid's room: Ice cream colours are going to be a huge trend in interiors and fashion this year.
* Geometrics: Although geometrics are already trending, it was mainly on cushions and rugs. This year, geometrics are big on tiles, wallpaper and art. It can be used on the walls of a shower or as a kitchen splashback.
* Ombre: When it comes to shade, this season you will see ombre in different ways. From fabrics to cushions, rugs and bedding, you will spot ombre everywhere. You can use it in a watercolour style on lampshades, artwork and furniture. Once you have chosen the colours, co-ordinate your accessories to complement the wall colours using a mix of plains and prints.
* Natural texture: Natural looks in an apartment never fail to impress. The wallpaper can resemble natural components, be it cane, bricks, mud, rattan or stone chips. Wooden-style wall and flooring also complements the look, as wood is a great choice of texture for interior decoration. You can use all-wooden furniture and cane sofas to go with the overall look of your apartment.
You can also use wallpapers inspired from artwork. There wallpapers resemble abstract paintings or murals. Or, you could opt for wallpaper which has some figures outlined on it, be it a sea-beach or a forest.
With inputs from Sanjay Jain and Abhishek Bhardwaj
Follow @htlifeandstyle for more