The Taste With Vir: In politics we trust - India's new gurus and godmen
In this week's column of The Taste With Vir, Vir Sanghvi throws light on politics, godmen and the new gurus of India.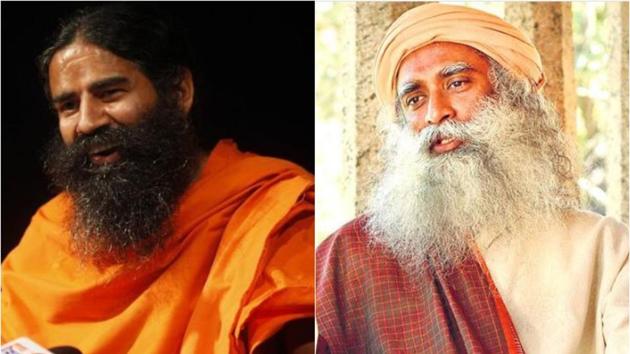 Updated on Mar 20, 2019 01:19 PM IST
Is it just me or do you also feel that gurus are suddenly taking a much greater interest in party politics than ever before?
When I was starting out as a reporter I was frequently put on the guru beat. I went to the Hare Krishna complex when it was being constructed in the Mumbai suburb of Juhu and listened politely as various 'monks' told me about how the complex would be a 'spiritual Disneyland'. (But where's the mouse, I felt like asking).
The Hare Krishnas were okay, actually. They had no real interest in Indian politics and were only concerned that their contribution to the propagation of Indian culture in the West should be properly acknowledged. (Which I duly did. My piece began "The Hare Krishna movement's greatest contribution to the propagation of Indian culture abroad is that millions of Americans now think that the Hindu religion has three gods: Rama, Krishna and Harry." They did not see the joke).
I also went to Ganeshpuri while I was on the guru beat and met Swami Muktananda who, I have to say, I quite liked. He must have included politicians among his many devotees but he gave no indication of being partial to any one side. His discourses were studiously non-political.
I never quite got to meet Sathya Sai Baba who certainly had followers in every political party but once again I always got the impression that old boy regarded himself as being above politics. Likewise for the next generation of gurus. Gurumayi who followed Muktananda stayed out of politics as did the Sai Baba operation as a whole after the Baba himself passed.
I spent time at the Rajneesh ashram in Poona in the days when the old humbug was still meeting people (and no, all you viewers of Wild Wild Country, Ma Anand Sheela was not around --- she joined him later ---- and the operation was run by another Gujarati lady whose name I regret to say I have forgotten) and though Rajneesh seemed to hate all politicians even he, charismatic old charlatan that he was, would not pit one party against the other.
I have been racking my brains to think of gurus and godmen from the old days who involved themselves in party politics. I don't suppose Dhirendra Brahmachari counts; he was a dodgy character who hung around Indira Gandhi but was no guru or godman. There was a Ma Anandmayi who Indira Gandhi was close to but their bond seemed to exclude politics.
You could contrast this with Muslim holy men, many of whom did not hesitate to take sides, not just during elections but also at times of international crisis. The Shahi Imam of Jama Masjid, for instance, took credit for having Indira Gandhi defeated in 1977 and then went on to become a full fledged political Imam. During the US invasion of Afghanistan (after 9/11) he attacked America during his preachings and spoke of the need for Indian Muslims to stand firmly with the Taliban. (One notable Indian Muslim, Javed Akhtar, commented at the time that as the Imam was so keen to help the Taliban, the government of the day had a moral duty to put him in a plane, fly him over Afghanistan and airdrop him there).
The Muslim clergy may remain as politically aware as before with religious leaders happy to issue political fatwas. Some the Hindu Shankaracharyas are also quite willing to lend tacit support to political parties.
But the interesting thing is that the generation of gurus and godmen who have followed Muktanand and Sai Baba are now ready to openly put their weight behind politicians, parties and candidates for office.
I first noticed it when Sri Sri Ravi Shankar, the yoga master who I had admired for the work he was doing teaching breathing techniques to his disciples, came out in support of Narendra Modi when the UPA was still in power.
The swami's sudden love for Modi had been obviously been accompanied by a correspondence course in economics because Sri Sri took it upon himself to tell us what the rupee-dollar rate would be if Modi came to office. (I think he thought the dollar would be Rs 40 when Modi ascended to the job --- in actual fact the rate is now nearer Rs 68 to the dollar. You just can't depend on correspondence courses these days!)
Sri Sri Ravi Shankar has made it clear that he wants to be involved in matters of politics. He began to involve himself in the Ayodhya issue and has now been appointed by the Supreme Court as a mediator in the dispute. (Frankly this is quite unfair to Yogi Adityanath who is at least as neutral as the Double-Sri and could well have become a mediator himself.)
Then there is the phenomenon of Baba Ramdev. I have no idea how good the Baba's products are but who can deny that a) he has turned himself into a TV Star, b) he has become a billionaire, challenging and defeating consumer-focussed multinationals at their own game and c) that his yogic skills are impressive.
Does all this mean that he too must seek a role in political affairs? Indeed it does. When he came to Delhi in the UPA era to stage a political protest, ministers rushed to the airport to beg him to desist. When Ramdev went ahead anyway, the government was worried enough to send the police in to violently disband Ramdev's gathering. The Baba himself only escaped thanks to some creative cross-dressing. Now, he is a major national figure who, many believe, will join politics one day.
Or take Jaggi Vasudev, a man who has never met a television camera he did not immediately fall in love with. Jaggi has done everything possible to remain in the public eye, pandering to socialites, asking the likes of Karan Johar and Shekhar Kapur to interview him and even turning up on a Gordon Ramsay cooking show on a motorcycle. There is very little this man will not do in his endeavour to keep himself in the public eye.
Which is fine. The world is full of wannabes. But it turns out that even Jaggi Vasudev wants us to know that he has political views. He too wants to be a bargain basement Sri Sri Ravi Shankar.
Oh dear. Where will this end?
I'm not sure. I think the phenomenon of the guru as political activist is now well-established. Some of these guys will get somewhere. Others will remain stuck on motorbikes on cookery shows.
Either way, it marks a huge shift from the way in which their predecessors carried themselves. Many of the older gurus were humbugs and charlatans but they knew where their ambitions ended.
In today's India however, with mass media available to gurus and with the ruling establishment eager to take them aboard as symbols of a new Hindu India, the gurus see no reason to stop.
I am guessing that Ramdev will take the plunge into active politics over the next few years. And one of the other gurus will probably lobby to become the next President of India.
Don't laugh. Just wait and see.
To read more on The Taste With Vir, click here
Close Story