Babumoshai Bandookbaaz movie review: Bounty hunter Nawazuddin Siddiqui misses the target
Aug 26, 2017 02:55 PM IST
Babumoshai Bandookbaaz has got the ingredients, but their proportions are not right. Here's our movie review of Nawazuddin Siddiqui's film.
Babumoshai Bandookbaaz
Cast: Nawazuddin Siddiqui, Bidita Bag, Jatin Goswami
Director: Kushan Nandy
Rating: 2.5/5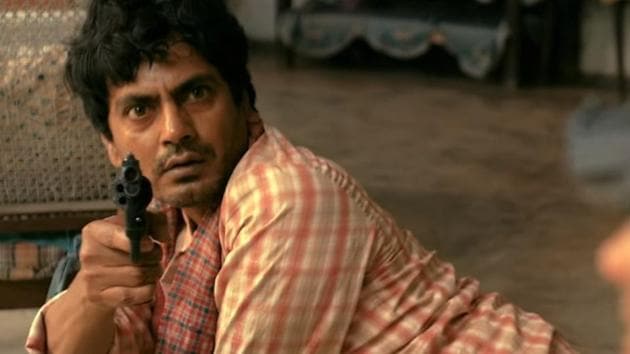 Two professional assassins are drinking on a bridge over railway tracks, sharing their life stories and reminiscing how they entered into the business of killing people.
One of them considers the other his teacher. The junior has so much admiration for the senior that he has renamed himself Banke Bihari (Jatin Goswami) out of respect for his guru, Babu Bihari (Nawazuddin Siddiqui).
Watch: Our Facebook Live discussion on this week's releases
A weird self realisation takes over Banke when he learns that Babu gets paid Rs 25,000 for each murder while he gets only Rs 8,000. That turns their conversation towards inflation and how it has become difficult for hired guns to operate with honesty. In an inebriated state, they challenge each other to murder three people. Whosoever will eliminate the three first will win and the other will have to leave the business of contract killing.
There is mutual respect between the two as they consider contract killing like any other job. Daredevils in their own rights, they enjoy patronage from local politicians. They have accepted nomadic lifestyle as their fate and are not attached to anyone except their craft of committing murders in unique ways.
Like Raman and Raghav, they have a connection. Babu doesn't mind Banke flirting with his girlfriend Fulwa (Bidita Bag). In fact, all three drink and dance together. There are indications of Banke getting intimate with Fulwa beyond certain limits, but Babu turns a blind eye as Banke has already passed his trust test.
It reads like a quirky thriller on paper, but in execution, it's borderline ridiculous.
Kushan Nandy opens his film with a lot of promise. We meet a gun-trotting Babu and hear Amitabh Bachchan's songs in the background. It's mufassil Uttar Pradesh where local strongman Dubey (Anil George) loves to see his wife getting massage from a burly masseuse. Though Nandy has left it to our imagination what could have happened next, but he clearly hints towards a mutual understanding between Dubey and his wife about different sources of sexual pleasure.
Then there is razor-tongued Jiji (Divya Dutta) who lusts for power and abuses non-stop. She holds the key to local political thrones and takes challenges head-on. Her conversations with local top cop (Bhagwan Tiwari) are laden with innuendos and bring out the struggle to have an upper hand in local proceedings.
Babumoshai Bandookbaaz has got the ingredients, but their proportions are not right. If you laugh at a Nawaz jibe then you also sense the futility of useless conspiracies. Sometimes for absolutely no reason. Then there is a twist that's as forced as Nawazuddin stroking his hair in every second scene.
Those who want to compare it with Gangs Of Wasseypur will deeply feel about the lack of in-depth back-stories. Solely dependent on Nawazuddin Siddiqui's rugged image, Babumoshai Bandookbaaz lacks a cohesive script. Its texture is close to a web series than a film where twists happen to keep the story afloat till the next episode. Nandy doesn't use them to cover-up the script loopholes.
Bidita Bag as gutsy and ambiguous Fulwa adds steam. Her expressive eyes tell the tales of a young lonely woman among wolves disguised as men. Her comfort level during intimate scenes with Nawazuddin fetches attention. Her sensuousness adds a new dimension to her cobbler girl.
Watch: The soulful Barfani from Babumoshai Bandookbaaz
Babumoshai Bandookbaaz appears superficial because it fails to explore characters and their idiosyncrasies. It states everything about them in a matter of fact tone which eventually slacken the audience's connect with them.
Some moments of spontaneous laughter are of course there. For example, when Banke watches The Good, the Bad and the Ugly in Hindi and tries to imitate Clint Eastwood. Or, when Nawazuddin Siddiqui and Jatin Goswami argue who should be credited with a particular murder while their hostage supplies them the word they were looking for, which is tie-breaker.
But these moments can't take away your attention from the shallowness of the entire facade. It's a film pretending to be a stylishly raw gangster saga originated in the interiors of the Hindi heartland, but in reality, it's nothing more than another attempt to look at the crime prone lower strata of society through a rose tinted glass. Sadly, Babumoshai Bandookbaaz never pierces our hearts.
Interact with Rohit Vats at Twitter/@nawabjha
ott:10:ht-entertainment_listing-desktop