Naa Peru Surya movie review: This Allu Arjun starrer is a coming of age drama gone wrong
Aug 01, 2019 12:51 PM IST
Naa Peru Surya movie review: Starring Allu Arjung and Anu Emmanuel, the film is about an army officer who tries to gain control over his temper.
Naa Peru Surya
Director: Vakkantham Vamsi
Cast: Allu Arjun, Anu Emmanuel, Arjun Sarja, Sarathkumar, Nadhiya
Rating: 2.5/5
In the process of making our dreams come true, one of the things that we lose is our self. Are we the same person the day we achieve our ambitions? Is it okay to lose your code of ethics for yours dreams? Allu Arjun's Naa Peru Surya Naa Illu India is about a man who is fighting this fight.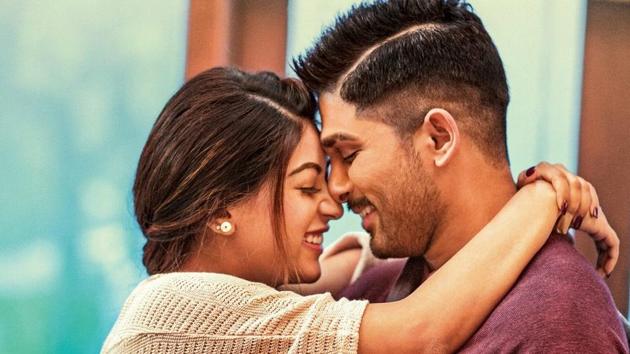 Naa Peru Surya is about a bullheaded army man (Allu Arjun) with anger management issues. His dream is to fight at the border so that people in his country can live in peace and prosper, but his anger comes as a hindrance to his dream. What happens when madness meets meticulous planning? You have Surya. He has no control over his temper, which when kindled has only one mode — hit everyone and everything in sight. He has a strong sense of right and wrong, so much so that he is robotic. The hard military life fails to instill values of self control in this soldier who loves nothing more than to serve his country. When he breaks the rules of the army and kills a terrorist who is imprisoned as a witness, he is suspended and forced to take psychiatric help to come to terms with anger. The doctor in question, Rama Krishnam Raju is an acclaimed professor on psychology, who also happens to be Surya's estranged father.
It is theory that a new habit can be formed and and an old one broken in 21 days, says Krishnam Raju and challenges his son to control his anger to make his dream come true. How does a man who punches first and thinks later manage his anger? This progression is the best part of the film.
Read | Rangasthalam movie review: Ram Charan, Samantha Akkineni film beats the formula
One particular shot of Surya getting on his bike and reversing the mirror is a beautiful way to show that he is now a man blinded by dreams, who is also going to turn a blind eye to things that initially got on his nerves.
The fact that he is losing himself in the race to make his dream a reality comes as slap when he another officer holds a mirror to the man that Surya has become. From a man who thinks of India as his home and has a batch with no last name, what he had become is jarring and this realization is dramatic.
Naa Peru Surya is a soldier's fight with himself, a war that he wages on himself. How does Surya feel in the meanwhile? 'Like a gun with no bullets. Can be cleaned, but not be used'.
It is a great premise to explore, and director Vakkantham Vamsi has tried to fit Allu Arjun's image of an action star in the film. The problem is with the first 20 minutes of the film where the audience are spoon fed on patriotism by showing soldiers at borders fighting and preparing to fight. Did it require so much time to tell us how dedicated an officer Surya is?
Read | Bharat Ane Nenu movie review: Mahesh Babu as CM ushers in a new era
Allu Arjun tries to do his best in the shoes of a soldier, but at places we see that it looks forced. For instance, when Surya is beating up the son of Challah (Sarath Kumar), the sequence is super sharp and applause worthy and yet there is a disconnect.
It is this same disconnect that plays havoc throughout the film. It could have been a great coming of age film, but the switch between Surya the man who is fighting to be himself to the soldier who is standing up for an ex-army man, the road is bumpy.
This also happens to be another film where the female lead has nothing much to do except dance and be the man's arm candy. Varsha (Anu Emmanuel) sings, dances, gets mad because Surya is an army man and they break up. They meet again, misunderstand each other and then break up again only to meet again after Surya decides to stop indulging in massaging his own ego. That is as far as their equation grows in the film, to be cut off soon because the male lead's equation with Challa, the antagonist is more important.
The dramatic ending with a monologue by Surya followed by the national flag being hoisted is a clichéd climax that still works because of its manipulative emotional quotient. And just in time the national anthem is cued.
Naa Peru Surya is a film that would work purely because of such dramatic emotional moments in combination with high powered action sequence, something that Tollywood is well known for.
Author tweets @Priyanka_S_MCC
Follow @htshowbiz for more